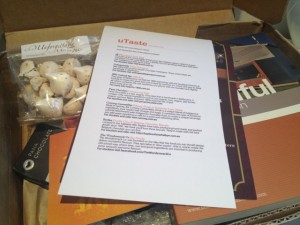 A box of fun for everyone! AgendaCity brings you uTaste described as "Subscribe and get a ridiculously decadent tasting box delivered monthly" and they aren't kidding!!
Imagine a surprise box of goodies arriving each month packed with tasty morsels just for you!!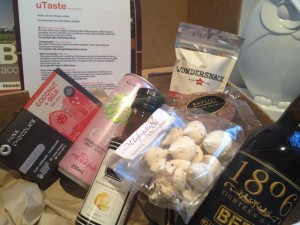 This month we have a whole heap of yummy treats!
– Firstly 1806's own beer! Already we are onto a winner with this little beauty! Described as the sweetness of a pilsner with a rounded slightly bitter body of an ale – divine!
– Eff Effervescent Fruit Juice from Mildura's oldest fruit juice company there is a whole daily serve in a can! Sparkly, fun and all natural!
– Currong Consumables Rainforest Lime Shrub 'Flavourfully Australian' the shrubs are Apple Cider vinegar based cordials. Vibrant citrus rainforest lime flavour as thirst quencher to mix with water and enjoy with the family! Yum!! Possibly an splash of vodka and you have the perfect cocktail for the evening!
– Pana Coconut and Goji Choc – raw, organic, handmade and naturally sweetened with agave nectar this is chocolate that is good for you! Low GI, No Dairy, Soy, Gluten Free and beautifully wrapped! OMG that is sooooo good!! LOVE love love!!
The Wandersnack! Described as the hangover bar snack, named due to the ingredients used – Bacon fat, Worcestershire and maple syrup tossed through spicy nuts!! Also good in a salad – will definitely try that one! The cats also seemed drawn to this one … and the box!!
Unforgettable Meringues – already a fan and thrilled to see these beauties in the box! Perfect on their own or get yourself some little tartlet shells and lemon curd and you have mini lemon meringue pies!!
Baylies – Epicurean Treats – Choc and Hazelnut biscuits from the Adelaide Hills and made with the best Belgium Chocolate they can find!! ….. hubbies reaction said it all! We love these! Really rich and
And a Beautiful Accommodation Guide to top it all off!! Infact this little box of treats would be perfect for a weekend away… if we had anything left!!
Check it out for yourself at www.utaste.com.au
"uTaste is a delicious collection of gourmet treats in one box. Our professional curators scour the country for decadence. Each month we select the most amazing treats we can find, box them up and ship them to you direct. Shipments happen on or around the 15th of every month. Get them delivered to the office to share or get them delivered home for deliciously greedy consumption."
And seriously – the cat loved it!!