I am thinking next years challenge could be cooking from Pinterest! I am loving it now I have worked out how it all works! With boards loaded with amazing recipes from those I am following I have 12 months worth of foodie fun to be had!!
Feeling a little under the weather and craving hearty chicken and sweetcorn soup all you do is run a search and hundreds of tried and tested recipes spring up for you to choose from!!
A few recipes down is the one that jumps out for me, repinned a few times it has a slight Asian feel to it and I think I have most of the ingredients ready to go!
Originally pinned from the NineMsn site it is a perfect example of how soup should be simply, fast and blow your socks off tasty!!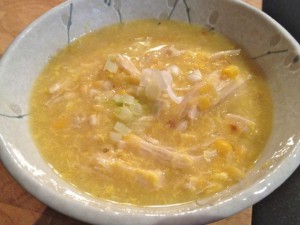 Super healthy and super lovely, I really liked the egg through the dish to thicken and with my own addition of some dried chilli flakes this is medicine in a bowl!!
Guaranteed to make you smile again!!