CLOSED
The smiles at Bess are the best! And the burgers are pretty hot too!! A great fit out I vaguely remember the place that used to be here and I am very sure it wasn't as lovely as this!!
I like the ethos behind this local bar and eatery;
All our produce is sourced locally & ethically where possible. We use small producers who are
passionate about their product and environment which results in better tasting,
healthier produce and a cleaner environment.
And it shows, the food was fabulously fresh and incredibly tasty! The menu is split with raw bar, bites, plates and sides and there is certainly something for everyone! The raw bar is shouting tempting dishes like Oysters – shucked to order, Steak tartare, snapper and carpaccio YUM!
The bites are a dreamy list of Pork puffs – crispy ears, dips, sliders, lamb ribs and croquettes. I have this yearning to want all 'bites' a perfect treat for me would be to have Yum Cha across all cuisines!!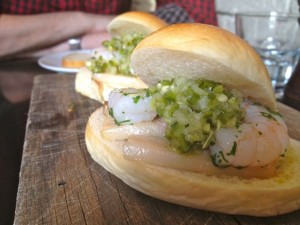 Pork & prawn sliders with green chilli, with two of these babies for $9 it would be crazy not too!! LOVE the green chilli and perfect tangy friend with the succulent pork belly and fresh prawn!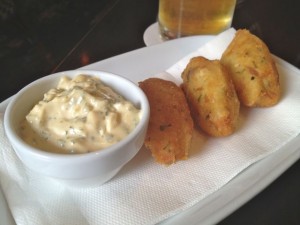 Salted cod croquettes with sauce gribiche – Soooooooo fluffy, so creamy, so fishy!! These were sooooo good!! I'll be honest I wasn't sure what gribiche was so – Wiki says "Sauce gribiche is a mayonnaise-style cold egg sauce in the French cuisine, made by emulsifying hard-boiled egg yolks and mustard with a neutral oil". So there you go! It was pretty tasty!!
Mains are mouth wateringly tempting with pasta, gnocchi, blue eye, schnitzel and burgers!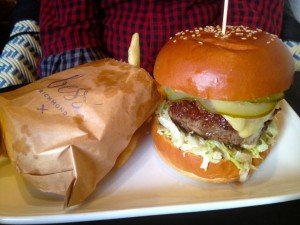 Ladies please be seated – I give you the Cape Grim burger with gherkin, iceberg lettuce, bacon and yummy fries! Perfectly rosy, super succulent meat, perfect friends and wonderful fries…… perfection on a plate!!
And that wasn't even my dinner!!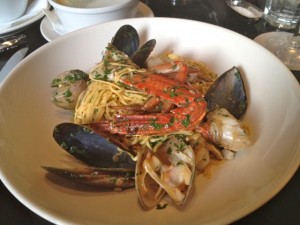 Hand made angel hair pasta with shellfish, garlic, parsley and olive oil and when you stick your face in the bowl the aroma brings a smile to your face! Super fresh seafood a decadent level of garlic and a pair of crustacean crushers at the ready!!
Such a great dish, very generous and filling after stealing mouth fulls of burger! I loved this place, it ticked all the boxes and more, great service. Actually really great service, the guys were super attentive and charming!!
Great food, great vibe, lovely loos!!
Tick tick tick!!
Bess Wishes!!