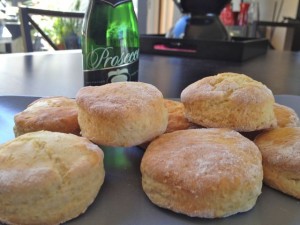 Mixing Baking and Bubbles! What more could you want on a relaxing afternoon!
This recipe was kindly supplied to Brown Brothers by Tom Walton, Chef at Bondi's The Bucket List, who kindly shared with all their Epicurean Club! And here we are – Prosecco Scones!
Super easy recipes, I love anything that doesn't have a never ending list of ingredients! Just 6 required and 3 of those are always in my pantry!
A quick trip to the shops for the rest and we are armed a ready to go!
Prosecco Scones Ingredients;
600g Self raising flour
120g caster sugar
1 tsp salt
250ml Brown brothers Prosecco
250ml double cream
Plus
Milk for brushing
Extra flour for rolling
Method;
Preheat oven to 180 degrees
Sift flour, sugar and salt into a bowl.
Combine Prosecco and cream and add to dry ingredients.
Gently mix and kneed until the mix has just come together.
Roll on a lightly floured surface until 1.5cm thick.
Cut with a 5cm round cutter and place 2cm apart on a tray lined with baking paper.
Gently kneed any offcuts and reroll. cut again and then discard these offcuts.
Brush tops with a little milk and place in the oven for 14 minutes.
Me? I chuck it all in a bowl, mix away and then bring together to form a gorgeous, marchmallowy dough, I needed a fair bit of flour to stop it sticking to everything but it was a warm day!! The dough was super easy to roll out and cut out the rounds to pop on their baking tray.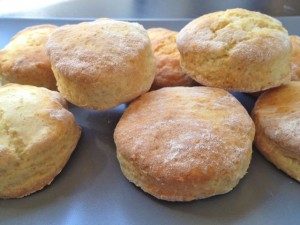 Heaven! Sit back, relax and pour yourself a glass! And in just 14 minutes out comes the most gorgeous scones, crispy on the outside and super soft and fluffy inside!!!