THIS RESTAURANT IS NOW CLOSED
Back again, sun shining on the deck and we are hungry! The lovely Luigi has some new special dishes so we have to try them!!
So firstly – my FAVOURITE dish White anchovies, shaved fennel, capers and olives – I want it right now! I think I could eat it everyday!
SO fresh, perfectly balanced with the acid of the pickled fish… LOVE!!!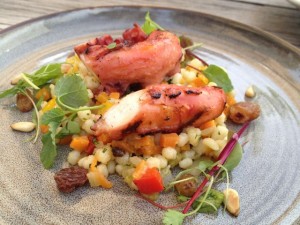 Chargrilled octopus with fregola, vegetable salad and agro-dolce dressing – stunning!! Big, real pieces of octopus with suckers and all! Meaty and absolutely delish!!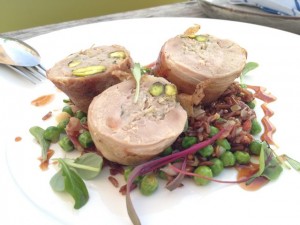 Pork, pistachio and pancetta…… oh yes baby!! A touch of brown rice and a freshly podded pea and it feels like we are eating a feast but it is all totally good for us!!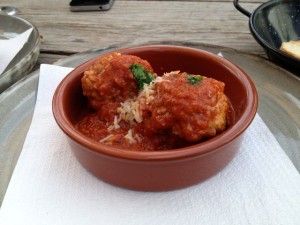 Stunning little meatballs, rich, deep sauce with super succulent meaty- balls!!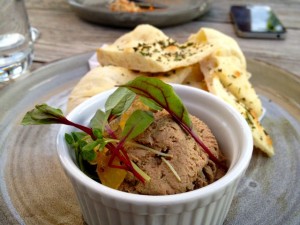 Pate di fegatini, chicken liver parfait, mustard fruits and foccacia – nuff said!!! Sooooo delish!!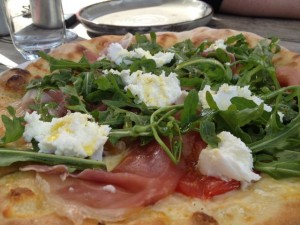 And a wonderful 'Primavera (bianca)' Buffalo mozzarella, fresh tomato, prosciutto and rocket Pizza perfection and all with a gorgeous glass of bubbles and fantastic service!
Love the deck – it might be my new fave spot for Summer… and Winter!!!
——————————————————————
Previously blogged 7th September 2012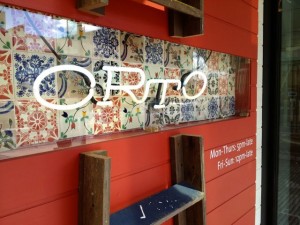 Hawthorn is quickly becoming the place to be! With a cool new eatery opening on a weekly basis we are spoilt little kitties!!
I love what they have done with Orto Kitchen and Garden, natural, fresh, open and cute, it's the small touches that brings together a really lovely place to be!
Arancini smoked mozzarella, peas and tomato are gorgeous! Crispy, oozey, delicious and the smokey flavour is heavenly!!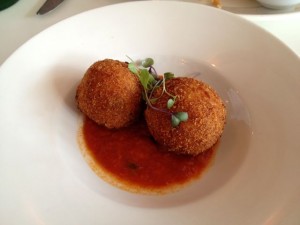 White anchovies and shaved fennel with olives – OMG!! I love white anchovies and I love this dish, perfect seasonal flavours and the little hit of basil lifts the mouthful to another level!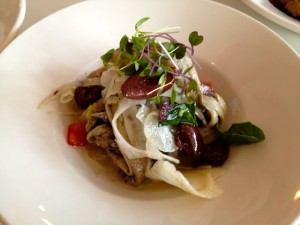 Calamari with lovely aioli, happy days! On a bed of light salad and perfectly cooked this is one of my favourite dishes!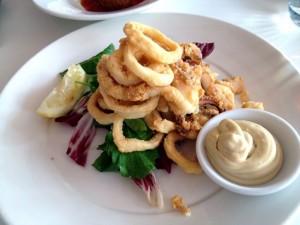 Hand stretched pizza bread with mozzarella, tomato and basil is a great little dish to share and super fresh on its fluffy dough base with chunky basil, mozzarella and fresh basil – YUMMMMM!!!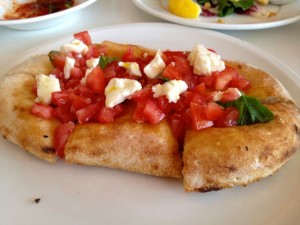 And the sausage on fennel – just gorgeous!!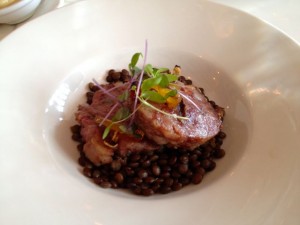 With summer around the corner the outdoor area is going to be a great place to be and I love the garden steps!!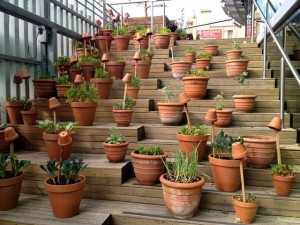 Lucky old Hawthorn – another great place to be!