The invite said "Unlock the secret to great coffee"…… yes please!! I LOVE coffee, I am addicted to the bean and the chance to learn more from the masters at St Ali was too much to turn down! Throw in signature dishes from Adam D'Sylva and the new Super Machines from Jura and this is the perfect way to start the day!
SO the official line;
To celebrate the launch of JURA's new ultra-compact at home espresso machine, the ENA Micro 1, JURA has partnered with coffee expert Salvatore Malatesta and chef Adam D'Sylva, to hold a series of FREE coffee bean master classes in Sydney and Melbourne during December.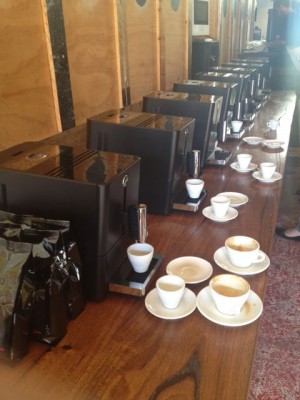 So I will be honest I didn't know anything about Jura and their machines before this morning and it was interesting to hear Salvatore talk so passionately about his own doubts that were well and truly squashed on trialling the machine.
From a novices point of view – one touch button is easy, you keep a small amount of beans in the machine and they are freshly ground for each cup. The machine seems to try and keep everything as simple and easy as possible with self cleaning, minimal interaction and at the end of it all – great coffee!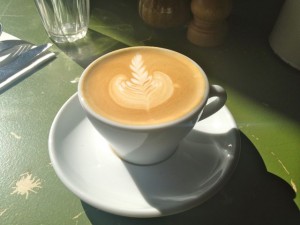 The combination of the best beans and the best machine make this the barista you always wished for in your kitchen! Retailing at nearly $1,000 it is a bigger investment but thats only 200 $5 take away coffees, quick math tells me I drink about 600 coffees a year so I would actually be saving money – or at least breaking even if I bought the really good beans!!!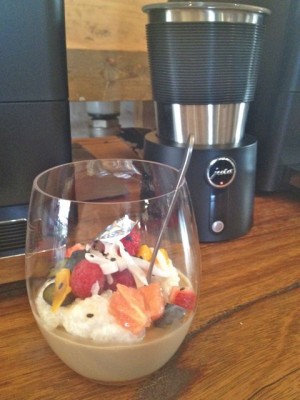 Our intimate gathering of coffee-anonymous is not only getting as much caffeine as their little perky hearts desire but Adam D'Sylva from Coda is making us a special coffee matched breakie!! The latte pannacotta with fresh young coconut, sago and fresh berries plus a touch of silver! SO spoilt! This is stunning and we even get to see how to pull the dish together with a live demo!!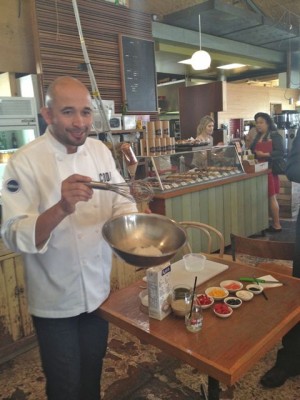 Everyone is happily chatting and we meet the lovely ladies from Jura and BeanScene as well as the lovely blogger behind Peach-water blog, we are all thoroughly impressed and even more so with Adams next dish!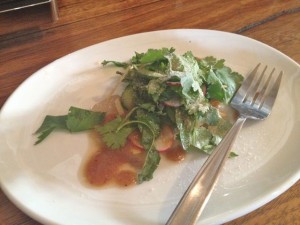 Stunning Kingfish with fresh ginger, radish, palm sugar, chilli, mint and tamarind and perfectly matched with a little expresso please!!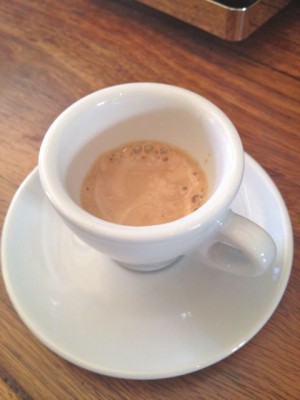 A spectacular coffee experience and packed full of top tips;
JURA's top 10 tips and facts to enjoying great quality coffee at home
• Don't keep coffee in the fridge or freezer, it kills the flavours and can damage the grinder
• Store coffee beans in a dark container and for optimal freshness use within 28 days of roasting date
• Coffee is a fruit and therefore seasonality and freshness is key – always ask your roaster which is the freshest blend
• Coffee loses its quality 45 minutes after being ground, so store as beans and use ground coffee quickly
• The JURA ENA micro 1 will only ever ground the optimum amount for any single serve
• Coffee is 90% water, so water quality is essential
• The JURA ENA micro 1 has an integrated water filtration system
• For those that drink milk with their coffee, the optimum ratio between water and milk is 1:3, and therefore milk quality is important – always try to use biodynamic milk
• Cleanliness in all forms of food and drink is essential. Regularly clean your machine
• The JURA ENA micro 1 cleans itself
• If you chose to use a manual coffee machine then make sure you have done a barista course, otherwise use a one touch automatic machine, like the ENA Micro 1, for a quality cup of coffee at home.
• Many people confuse strength with acidity. Heavily roasted beans taste strong but fresh beans tend to have a light citrus taste
• Most people associate coffee with eating sweet foods but it's just as good and interesting with savoury. Try it with a smoked fish dish.
If you are feeling a little envious you too can take The JURA secret blend masterclasses on the following dates:
• Saturday 1 December at St. Ali in Melbourne at 10.30am
• Saturday 8 December at St. Ali in Melbourne at 10.30am
• Saturday 15 December at The Grounds Roasting Room in Sydney at 10.30am
• Saturday 22 December at The Grounds Roasting Room in Sydney at 10.30am