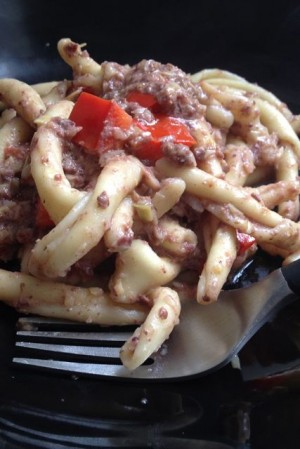 Pasta – my favourite fast food! I think simple is better for pasta, similar to pizza! This one was just a little something we rustled up one afternoon!
Serves 2;
Jar of pitted black olives
Feta cheese
Jar of artichoke hearts
One red capsicum
Choice of pasta
Boil up the pasta as per instructions and then chop up the red pepper to brown in a pan, this will bring out the sweetness.
In a little blender put two tablespoons of olives, half a jar of artichokes and the feta cheese – WHIZ! Once the pasta is done take 1/4 cup and put in the blender with our olive mix. Drain pasta and then add sauce and capsicum with salt and pepper to taste.
Serve and enjoy!!