A perfect birthday pressie for a foodie – Xmas baking with the lovely Alison Thompson!
A hands on / hands off class packed with Xmas goodies! Held at the LG Kitchen at South Melbourne Market it is one of the many classes you can enjoy year round.
Tonight we are celebrating Xmas – mince pies, gingerbread, truffles and my nemesis – the macaron!! Alison is a very experienced chef with experience in kitchens all over the world before turning her hand to creating amazing books such as Bake and Macaron! Both of which I have dabbled with!! See blog here.
The class is jam packed with 2 hours to produce a box full of baked treats starting with our gingerbread peeps!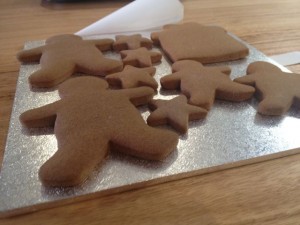 The hard work is done for us and all we have to do is get a little bit creative! Firstly we learn the trick to a homemade piping bag with baking paper…. I would try and explain but you really need to see a demo!! Once full of Xmas coloured icing we are sent off on our own to do what we will with silver balls, smarties and icing!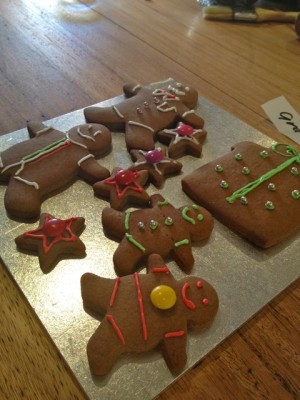 Not bad!! I think a few people thought that was the whole class bless em'! Not me – all gingerbread decorated in record time and ready for the next bit of fun! Mince pies – YUM!! A pastry log is ready for us to roll, fill and decorate! I love the top tips – a veining tool to create picture perfect leaves and remember to let the air escape from the bottom of your pie case!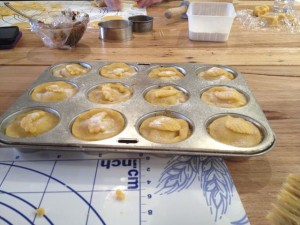 Will the pies stick Alison? Nope – this is butter pastry and there is plenty of fat to ensure there will be no sticking here!! So all the hard work is done and we quickly clear up so that we can enjoy a glass of wine and see Alison show us how to prepare the base essentials and much more!
Gingerbread batter with a dumper truck if spices! So good even the batter is divine as we dip in spoons!! Mince pie filling – too easy! The room smells so gorgeous, all those Xmas flavours mixing together and making me hungry! Fortunately we have a few 'here's one I made earlier' to enjoy!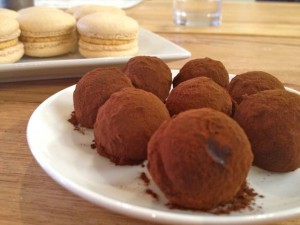 Melon balled Choccie truffles, salted caramel macaron filling and then we are on to the serious bit…. macarons, tricky, tricky little minx! I have tried once…. it didn't go well but I did make very yummy cookies!! Watching Alison make the mixture you can immediately get an idea of how this all needs to go! My egg whites were no way near stiff enough!!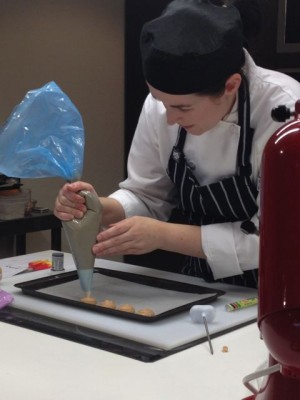 It's all in the techniques, multiple sifting, beating to just the right point, piping with the right height, banging out the bubbles and getting the skin!! So clever!! Makes me want to have another attempt!
And there we are two hours and we head off into the night with a box of goodies and a jar of Alison's fruit mix for more mince pie fun!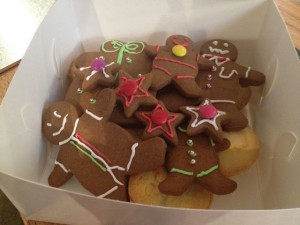 Thanks for Alison and Sue for looking after us and providing such a lovely evening! And to my hubby for buying me such a lovely gift and being the only man in a class full of baking gals!!