Following the release of the new Victorian Good Food Guide 2013 we were lucky enough to pop a few questions past Young Chef of the Year – Mark Briggs.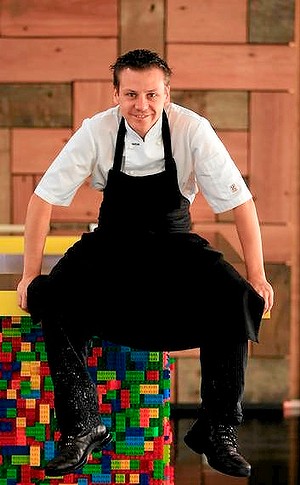 This year's finalists were; MoVida head chef David Roberts; The Smith's Bradley Simpson; Mark Briggs, head chef at The Sharing House; and Oliver Gould, head chef at Stokehouse.
Joining the ranks with such names as Coda's Adam D'Sylva, George Calombaris, Embrasse's Nic Poelaert, Andrew McConnell and Josh Murphy. Mark Briggs happily accepted his award last week as Young Chef of the Year.
It's wonderful that you have been recognised in such a way – how does it make you feel?

Pretty proud. Nice to be recognised. Makes it feel all worthwhile.
Did it freak you out being judged by heavy hitters such as Alla Wolf-Tasker, Guy Grossi and Philippe Mouchel?!

A little bit but at the end of the day we are all chefs and all do the same job.
Being judged along with This year's other finalists David Roberts, Bradley Simpson and Oliver Gould – did you guys get competitive at all? Any good stories of sabotage, espionage or trickery?!?!
No not from my point of view. A friendly rivalry if any.
Food Bloggers – are we really so bad?

I think that food bloggers definitely serve a purpose and recognise that they are growing in popularity, particularly here in Melbourne. I believe there are some good, established bloggers and some 'not so good' ones. When it comes to being able to write a great critique of a restaurant, experience nationally and internationally is the key so that the blogger has a broad scope of review experience they can draw on to help make comparisons. Also I find a few factually inaccurate details in some blogs e.g. cured ocean trout has often been described as smoked salmon. Just that little bit of extra time to double check would make a worthwhile and appreciative difference."
No stranger to travel! Where to next?

Japan. To Eat. A surprise trip from my wife.
Pop Quiz – Quick Fire Round!;
1) Who do you most admire in the current Melbourne Food and Wine space
The boys from Estelle Bar & Kitchen in Northcote. Why? Because they are a couple of mates that have opened a restaurant, doing what they want, really enjoying it and getting recognised for it.

2) What did you eat last night?
Dim Sims at midnight.

3)Where is your favourite spot in Melbourne for a relaxing bite and drink?
The Station Hotel because it is close to home and has good food.

4) Favourite comfort food?
Ham sandwich or Sheppard's Pie

5) Favourite 'no time to cook' meal?
Sandwiches.

6) Any spare time? Fave thing to do?
Watch football/soccer

Congrats again to Mark and we look forward to more food adventures in the future!