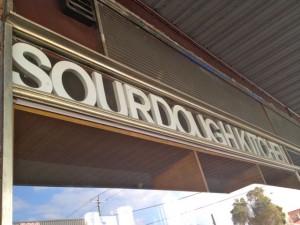 Across the bridge and I am transported to a little haven of great local shops, cafes and cute places to hang out! The pram brigade have been keeping this one secret and I know why!! Sourdough Kitchen is one of those fabulous little secrets and with great baking, gorgeous staff and 15 loaves to choose from I want to get myself a three wheeler and spend my days here!!
We were lucky enough to chat to the lovely Alex who took us through his journey from early adopter of baking, though maybe not as successful at such a young age! To builder and back to baker! A man who obviously wants to have pride in whatever he turns his hands to, he should be very proud of the Sourdough Kitchen.
Offering breakfast and lunch and a range of gorgeous baked treats it was hard to choose what to have for lunch and what we could take home too!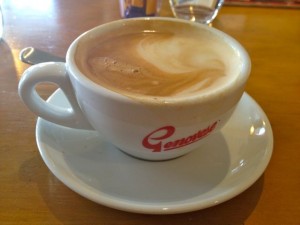 A fantastic cup of coffee helps the choice as well as lovely Kate's recommendation, a lovely generous sandwich on super fresh multigrain and a croissant!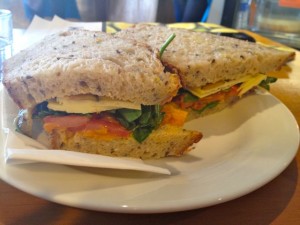 You cannot beat fresh! Bread baked at 5am that morning, gorgeous roasted pumpkin with cheese, tomato and greens with homemade chutney and mayo….. heavenly!!
And then…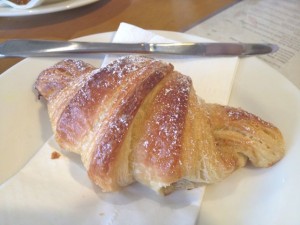 Holy baked goods!! So very lovely and with a sneaky little choccie running through the middle this is fantastic! Apparently the problem child in sourdough baking though! Temperamental and sensitive somedays Alex might have many and other days those croissants just do not play ball and there are none!! We are very lucky today as this was just so much nicer than the burnished, all butter puff that you would normally get with the puff pastry version, this is light and delicious!
There are also sourdough pizza slices, fruit buns, sausage rolls, quiche, eggs… plenty to choose from!
And then you get to choose what to take home! With up to 15 loaves to choose from at any one time you can get traditional ciabatta, wholemeal, spelt and multigrain to those more adventurous flavours like Hazelnut and Beetroot or Potato and Confit Garlic!! Yes please!!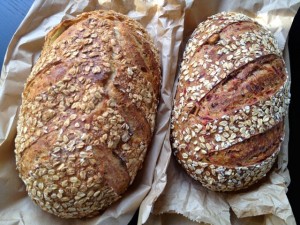 Look how gorgeous and fresh they are! Baked with love and you can certainly tell! I was so excited to get home and try these and look how pretty the beetroot and hazelnut is;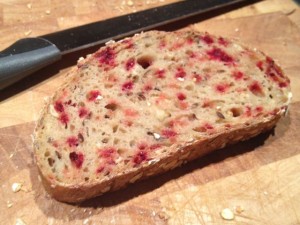 So amazing, perfect dough and so much flavour! With chunks of hazelnut this is blow your mind amazing!!
I wish I had a little Sourdough Kitchen in my neighbourhood!