*************NOW CLOSED*************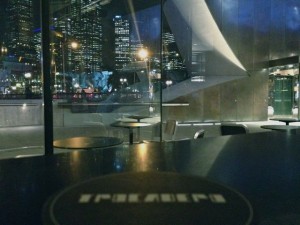 What a phenomenal meal! You know those nights when you just can't decide and you wish you could have one of everything… and we nearly did!! A special night with Marty McCaig and his fantastic team is a treat in itself but the food we experienced was out of this world!!
So brand sparkling new on the banks of the river, the much awaited Hamer Hall development is nearly there, the finishing touches are coming together and with new hot spots like Trocadero and Shaun Presland's Sake opening up these are certainly pulling in the crowds.
The new baby for the Van Haandel Group who brought you Stoikehouse and Comme, Trocadero is in the money spot with prime position to catch the sun all day overlooking a stunning view of the cityscape. With a hundred seater outdoor terrace set to be opened soon this is going to be the place to be come carnival and summer time!
Head Chef Nick Bennet brings us a modern euro style with iconic favourites with a new twist – we will talk fish pie very soon!! They are certainly pulling in the pre-theatre crowd and at 7pm there is barely a seat in the house but there is also a change of vibe post 8pm and the show goers rush off to their night and the rest of us settle in for a long hard look at the menu!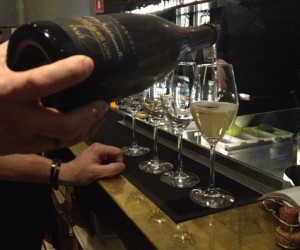 But first I have to mention the design and fit out! Slick window and chrome frontage makes for a modern feel but there is a welcoming and comfortable level to the place with wonderfully friendly staff and bum friendly chairs!! But the art installation is the feature! The specially commissioned wall mural by Japanese Graffiti Artist Jun Inque is stunning, I want a little piece in my house! We have a sneak peak of how this all came together so you can see how cool it is!!! Click here!
The menu has something for all tastes and time constraints! Our pre-theatre friends can grab a bar snack or select from the many gorgeous dishes from the brasserie menu. There is always an opportunity for a glass of sparkling and some top notch oysters, Clair de Lune and Moonlight Kisses are freshly shucked and au naturel and just sublime!!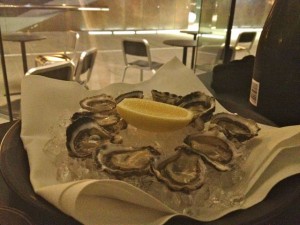 There is also a great selection of snacks from the bar with olives, toasted lamb sandwich, anchovies with rye bread and my new favourites – Grissini with whipped curd and smoked salt and the Duck Beignets.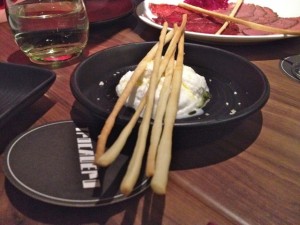 A simple sounding dish, the Grissini with whipped curd and smoked salt is such a stand out! I can see myself on that terrace one afternoon with a little dish of this and a glass of the gorgeous Francois Chidaine Montlouis sur Loire Valley Sparkling Chenin! And the Duck Beignets with quince….. they come in a serve of three… I recommend you don't share!! Sooooo Amazing!!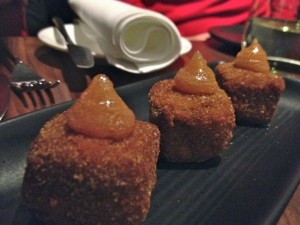 BUT the crispy squid was one of those dishes that your hubby offers you on the end of a fork and you accept, go to go back to your conversation and stop to exclaim "Oh wow that is soooo good'!! I think I even went as far to say it was the best squid I had ever had!! Served with cauliflower and coriander yoghurt it is super crispy, fresh and just heavenly!! Add that to my terrace table in the sun too!!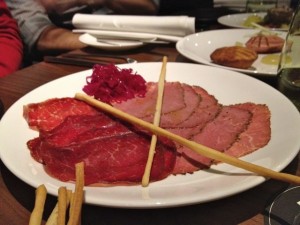 There is a substantial piece of equipment in the bar and it is a super big shiny meat slicer! One of those machines that you have no idea how to use it and why it is so big but it is impressive and at the end of it you get wafer thin Wagyu Bresaola and pastrami with red cabbage! OR you can enjoy San Daniele Prosciutto or Paletilla Iberica de Bellota Carrasco… I am not even sure what that one is but I will just have to go back and learn more next time!!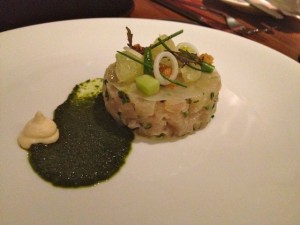 Still on entrees the Kingfish Tartare with toasted Nori, green sauce and pomelo is such a pretty dish and was probably over shadowed by the amount of amazing dishes we had here but I think this was a little star on the table! So pretty and the fish was so fresh and soft and melt in the mouth perfection!!
Even the simplest things here are done to the highest standard, the modern take on the classic Caesar – Baby leaves, pancetta, ortiz anchovy, reggiano and quails egg is gorgeous – the key here apart from the genius in the kitchen has to be the quality and freshness of the produce and it is making me hungry for this just typing about it!! I love anchovies and these were stunning!!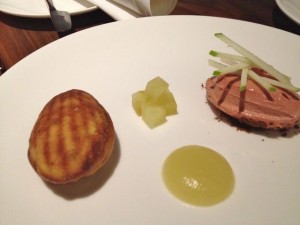 Chicken Liver Parfait with apple and onion madeleines – exceptional! The parfait is perfect, creamy, luscious and divine but the additional touches with the apple done three ways and the savoury madeleine just puts this dish up there are the amazing concepts coming from the kitchen – no detail is left undiscovered!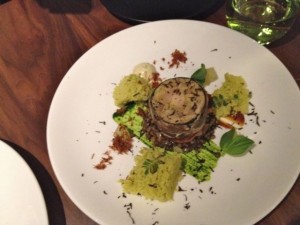 Friends at our table who have already had the pleasure of eating at Trocadero keep calling for their favourites and one of them is certainly the Rabbit Terrine with truffle, pistachio and lentil salad is rightfully hailed! A stunning dish of hearty, rich duck and the lightness of the lentils makes for a perfect entree ….. you could share if you like!!
Ok people – the Pièce de résistance – Fish Pie!! I love fish pie and this is the daddy! The most amazing dish of my year – I want it now!!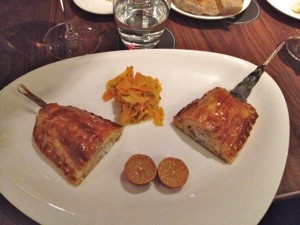 Baked Garfish 'pie' with herbs, parmesan and fennel escabeche – a boneless garfish runs through the pie to give the Kapow on the plate and then the pie is filled with 3 other fish – smoked salmon, blue eye and tuna =
Stunning! Creamy mash and herbs and cheese…….. OMG and I am going back now for my fish pie!!
But there's more………..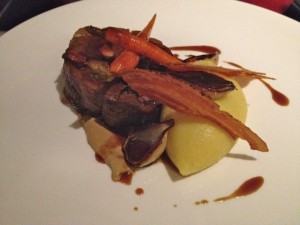 Oxtail Bourguignon with paris mash…. WOW – I once tried to cook oxtail and it didn't go well, you have to know what you are doing to remove the fat without losing the flavour and this was so amazing. Teamed with rich, creamy paris mash – take me home baby!!!
The linguine with squid, crab, chilli and tomato looked exquisite, again so fresh, my friend pushed my nose into the dish with the exclamation of "Smell how good this is"!!!! AND he was totally right!! The Steaks looked so good, Flinders Island lamb with vadouvan spice rub and aligot potato came with a lot of yummy noises and there seemed to be a fair bit of distress when the ridiculously cheesey potatoes went around the table to share!!
Sides are, not surprisingly, amazing!! Triple cooked mega sized chips with truffle aioli and pecorino should be available to take home and indulge in forever with ever other meal!!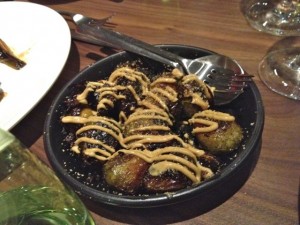 AND – I love it when a chef makes poor old sprouts look this bloody good! Roasted perfectly with almonds and tamari – it is making it hard to pick favourites here!!
OK – take a break…. we still have dessert coming!!
A special mention to sommelier Almitra who looked after us with the most gorgeous array of matching wines, the Italian Ronco Dei Tassi and Henri Boillet Bourgogne Blanc were stunning and perfectly matched with our wonderful meal this evening!
Ok, onwards and dessertwards!
This is serious!! Caramel cooked cream with pear, chocolate and popcorn crumble!! That one didn't last long… good job we got two!! Chocolate pudding with coconut ash meringue was suitably gooey inside and just a perfect choc pud!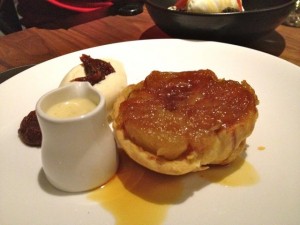 Apple tarte tatin with spiced date, vanilla ice cream and brandy custard was one of my faves, I love comfort food and this was so good!! The best thing about having a table full of good friends is you get one of everything and off they go around the table with spoons at the ready! Just a little taste of everything – perfect dessert!!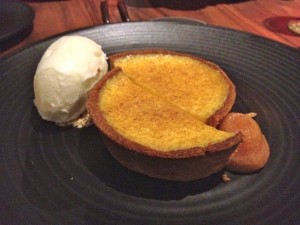 Ok I LOVE custard, in all forms but especially baked and when it comes with quince puree and candied ginger and yoghurt sorbet……. I need a moment to myself!! If Trocadero could please organise a delivery service of this … and the fish pie… and the squid and …….. oh hell – bring one of everything I will join the gym just for you!!
And finally! Another favourite love black sesame and this was a really different twist – 'Vialoni Nano' rice icecream, clack sesame sponge, rhubarb and caramel – tick, tick and tick!!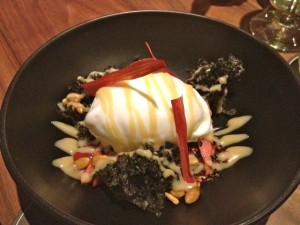 There just isn't a bad dish on this menu – or at least not that we tried!! And you can pretty much cover off something for everyone and any occasion, stop in for some pre-carnival drinks and snacks, stop in afterwards for a little something to fill your tum after the races, romantic dinner for that special someone, special dinner….. jeez any dinner I am there!!
It was an honour to be invited to the table with Marty and experience such an exceptional level of dining, we were very spoilt but you cannot deny there was amazing food and very happy tums all around! We will see you soon Trocadero!