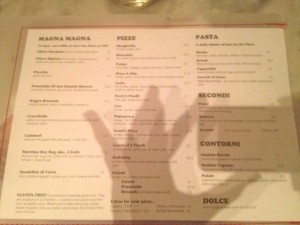 Monday night, not quite into summer and we are leaving the house! Must be for a good reason! Apart from the company we are off to Greville to visit Ladro! We had been to the Gertrude Street restaurant a long time ago but this was new territory! Firstly I'll admit I thought I was going to Gertrude, I frequently get the two street mixed up and now they have the same restaurant on them…. I am destined to fail! But luckily Ladros doesn't!!
A fantastic spot with a big area for plenty of pizza punters but somehow feels nice and comfortable and the noise levels surprisingly fine! It is relaxed Italian at its finest and the friendly staff and Charity BYO night only add to that overall satisfaction of being there!
So Monday nights = $5 byo charity night! All proceeds going to Prahran Mission, we get to enjoy a few bottles and we get to give back to the community – Winner!!
With a decent sized group of happy to share people we order several different pizzas and extra white anchovies…. I think the more refined want to put them on their pizza… I just want to eat them!!
Pizzas come is all styles and there is also a great selection of pasta and other mains to satisfy any crazy non pizza eating person!!
Ok I will get it out of the way… the pizzas average $20 and i have previously questioned how much I would pay for a pizza but interestingly I really liked it here and we shared and there was byo and it didn't really concern me but any other time I might query how much you can really charge for a pizza!!
So – I am a huge fan of simple, relatively plain pizza and mostly vegetarian, I respect there are plenty of Meat Lovers out there but this is my pizza!
AND I loved the choices for me at Ladro, the 'Boscaila' with fior di latte, porcini, field mushrooms, thyme and basil was a perfect example of my favourite sort of pizza! Simple, not flopping over with too much topping just simple good Italian Flavours! Loved!!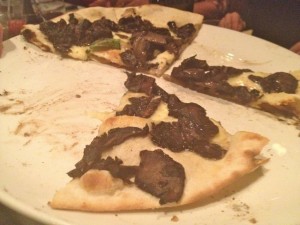 The bases are true to their heritage and are thin, crisp and divine! My other fave the 'Porriepselli' with leek,pea,gorgonzola and basil got a few funny looks around the table but I think they warmed to it once they tasted the sweet leeks and gorgeous little peas!! Fabulous!!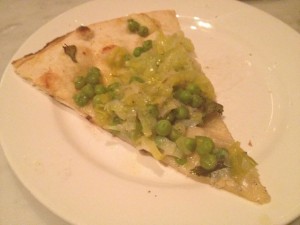 The 'Gamberi e Piselli' with tomato, prawns, peas, chilli and basil was really good with succulent little prawns, again not piled up with too much topping just refined flavours delivered well! They are all starting to love pea pizzas!!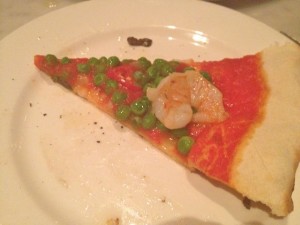 The Salami was as it should be tomato, mozzarella, salami, basil – really good salami, not running with grease as the less classy providers might offer and super tasty… nearly converted me to a meat pizza lover!!!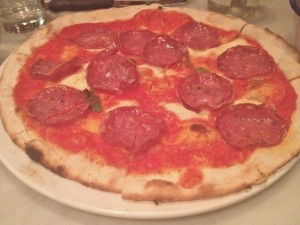 And finally the 'Scouts Pizza' – Tomato, taleggio, caramelised onion, dressed rocket, parmigiano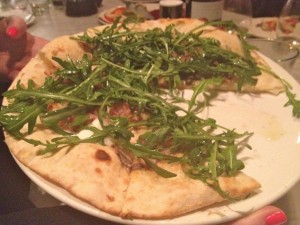 Bellisimo!! Again trying to convert me! Not usually a fan of rocket on the top of a pizza but this worked so well, perhaps it is the incredibly fresh produce being used at Ladro or the care and attention obviously paid to the food but I couldn't fault anything at Ladro except not making me leave enough room for dessert!!
Next time I want good pizza I am coming here!!