Sixty-six reviewers, 1100-plus meals, hundreds of journeys – the new edition of The Age Good Food Guide reveals more than 600 of the state's best eating ……
A sneak peak behind the scenes at The Age Good Food Guide Awards, a glorious night in the Grand Hall at the National Gallery – the states finest in providing foodie (and winey!) heaven are gathered to hear the results! Their fate hangs in the balance of whether they will feature! One hat, no hat – what does it all mean? For some it might mean a restaurant that is booked out for the rest of the year… but if you are that good you don't need this guide to guarantee that! Perhaps its the recognition from those in the room that you are doing it right!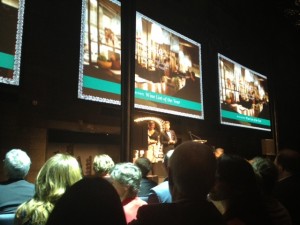 The night saw some of those most respected in the industry honoured and a standing ovation for Ella Wolf-Tasker for the legend award was obviously heartily agreed by everyone in the room. There were a well known few faces missing in the room and a few hushed murmurs at some of the results bit it was wonderful to spend a night with Jacques, Frank, Will, Shannon and Ella!!
So incase you haven't seen the long list of greatness and a few of our blogs!
Three hats
Attica – We loved our visit!! Click here to read!!
Jacques Reymond
Vue de Monde
Royal Mail Hotel – We are coming very sooooooonnnnn!!!
Two hats
Cafe Di Stasio,
Cutler & Co,
Ezard,
Flower Drum,
Matteo's,
MoVida,
The Press Club,
Rockpool Bar & Grill – Loved it!! Click here to read!
Stokehouse – Always Great!! Click here to read!!
Lake House,
Loam,
Provenance,
Stefano's,
Tea Rooms of Yarck – Wonderful!! Click here to read!!
Ten Minutes by Tractor
One hat
We are lucky to have visited a few!
Albert St Food & Wine – Loved Loved! Click here to read!!
Bistro Guillaume – a definite fave! Click here to read
Dandelion – Yummo!!Click here to read
Easy Tiger – Soooo Good! Click here to read
Gills Diner – Always a sure bet! Click here to read
Pei Modern – Just gorgeous and right fully so Best New Restaurant and good on you Ainslie Lubbock for your Service excellence award! Click here to read
PM24 – Memories of a wonderful night of cheese and Will Studd even popped up! Click here to read!
Spice Temple – Dark, intimate and just gorgeous!! Click here to read
And the rest lists like a wonderful 'To Do' list of culinary heaven!
Bacash, Becco, Bistro Vue, Cecconi's Cantina, Church St Enoteca, Circa, Coda, Cumulus Inc, Donovans, Embrasse, Estelle Bar & Kitchen, European, Golden Fields, The Grand, Grossi Florentino, Il Bacaro, The Italian, Kenzan, Koots Salle a Manger, Longrain, Maha, Mercer's, Moon Under Water, MoVida Aqui, Paladarr, The Point Albert Park, Sarti, Shoya, Steer Bar & Grill, Tempura Hajime, Town Hall Hotel, Yu-U, A la Grecque, Annie Smithers' Bistrot, Bella Vedere, Chris's Restaurant, Eleonore's, Gladioli, La Petanque, The Long Table, Montalto, Neilsons, The River Grill, Scorched,
Sunnybrae, Teller, Terminus at Flinders Hotel, Villa Gusto.
Congrats to all involved!!