*************** CLOSED ****************
One of the hottest spots on town and every table is full with happy campers living by the Claremont Tonic menu mantra
Boredom is not on the table tonight!
The cocktails are flowing and rightfully so when the drinks menu is so cool! My particular favourites were 'Chroming with Keith Richards', 'Norwegian Wood' and 'Nakatomi Towers'!! There is also the option of the C-Bomb!!!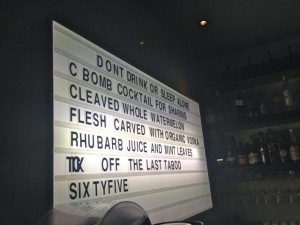 The menu is massive! And we want to try everything!! The chefs choice 'Born To Eat' selection for 6 dishes at just $68 is tempting but we decide to do the leg work and select dishes tonight! Definitely next time though!!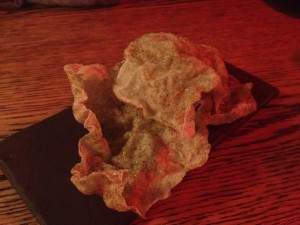 Complimentary crackers are quickly delivered with a lovely bottle of Gruner Veltliner and we are still working through what dishes to share! There is a bit of red lighting going on that is giving everything a red tinge! Until I discovered the guys have cleverly placed a spot light on the shelf near me!! The pics get better!!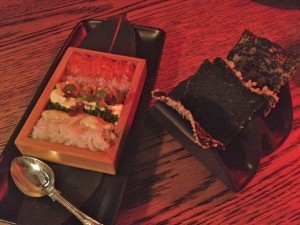 The King of Chimichangas! And it is! They are wonderful! Fresh avocado, salmon, kewpie and nori crackers… put them all together and you get a little bite of heaven!!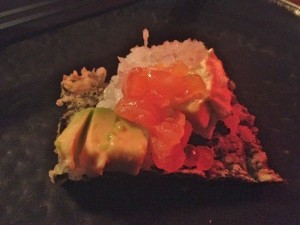 And then?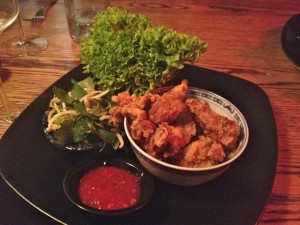 Southern Yarra Fried Chicken – soooo good, lashing of kewpie with fresh lettuce and crispy chicken – roll them up for perfection!!
And then?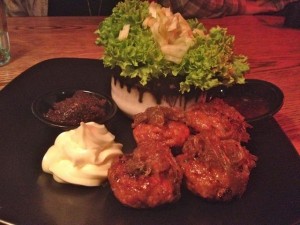 Pork Chipolatas CT style, not my fave dish of the night but still good!
And then?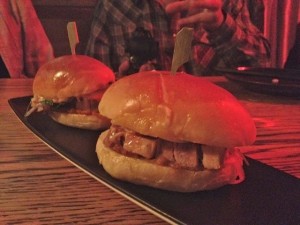 Pork Buns Animal Style!! A little brioche bun filled with pork belly, crackling, pineapple and quail egg…. soooooooo good!!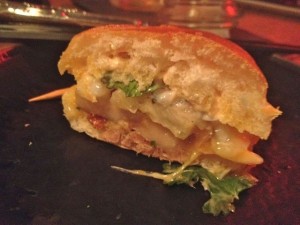 And then?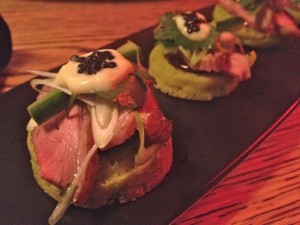 Double Duck Blinis – peking duck, pate, cucumber, hoisin and caviar ailoi….. soooooo amazing! More please!!
And then?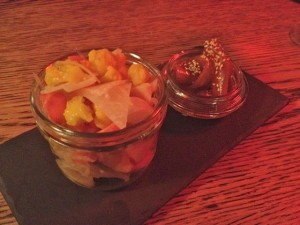 The No Big Dyl!! Mixed pickles with cauliflower, radish, carrot… so good!
And then?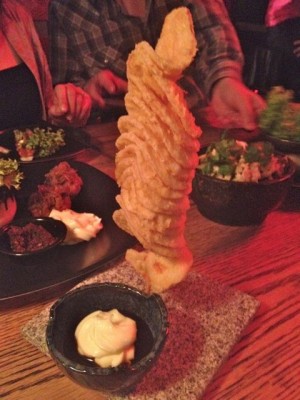 Infinite Spiral Fries curry salted, kewpie and sticky soy! Soooo amazing, get your own and tuck on in!! The slinky of potato fun!!
And then?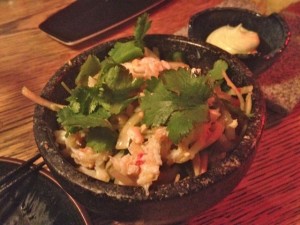 Crab Meat Som Tom – pounded papaya, chilli, garlic, green beans and shrimp, nice and fresh but one of the more expensive dishes.
And then? Dessert!! Any three for $35?! It would be rude not too!!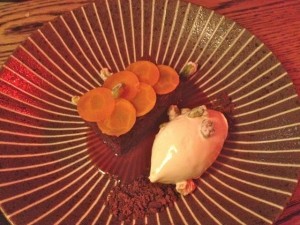 Gingerbreads! Warm spiced carrot cake with salted caramel, sesame ice cream and pistachio….. sensational!!
And then?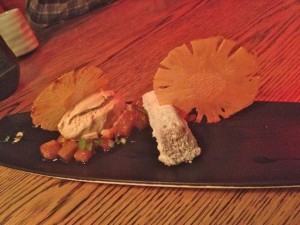 Ladies and gents I give you Elianza Truffle – milk choc, pineapple, perilla and malt with wafer thin pineapple!!
And then?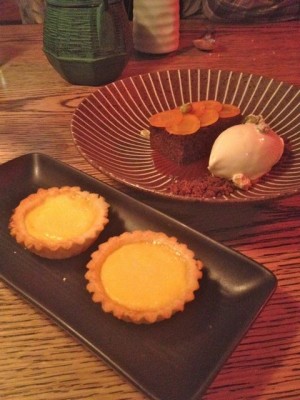 Custard Tarts…… gorgeous, eggy, wobbly custard tarts! Cooked fresh to order, totally worth the 15 mins allowed to bake them!!
And then?
No – no more!!!! But I will definitely back for a C-Bomb and some more Pork Buns very soon!!