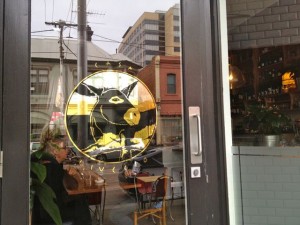 Wowsers! This place is fabulous! The decor is fresh, welcoming with a homely feel but if your home was super cool!! The staff are full of smiles and helpful advice and wine list is impressive!!
The menu is a great mix of small bites, from the grill, from the coal pit and fantastic veggie dishes.
I could seriously eat it all and given a bottle of wine and the afternoon free we might well have worked our way through at least the small bites!!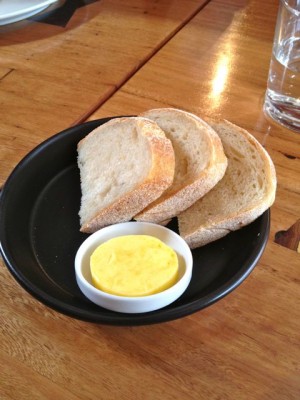 Bread is swiftly delivered to the table with lovely butter and we are all happily tucking in as we make the hard choices of what to have… hard because we want it all!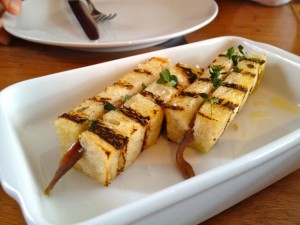 Anchovy montadito – how gorgeous is that? AND they tasted fantastic! So good my foodie friend @sevillebogan had to order another one!!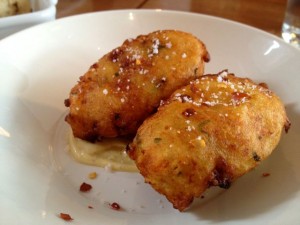 Stunning! The Chorizo croqueta are soooooo amazing, creamy, slight crunch to the outer and the smokey chorizo lumps filtering through….. hmmmmmmmm!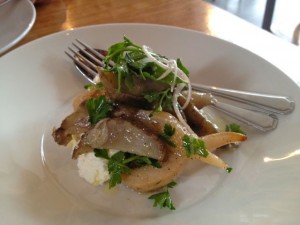 Jerusalem Artichoke, pear and queso fresco is wonderful, crunchy caper berries and smooth creamy cheese – just a perfect light dish!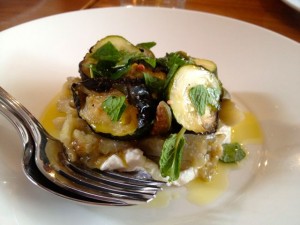 The Zucchini, eggplant and labneh is absolutely 'rock my world fantastic'! super clean with lemon and mint and the mild sourness of the labneh with the creamy, smoked eggplant – DIVINE!!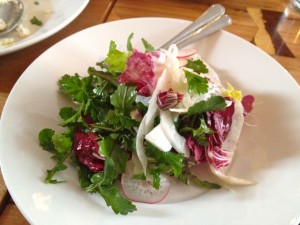 The Radicchio, shaved fennel and radish is super fresh and beautifully light, seriously we barely left a scrap on any of the plates everything here was so wonderful!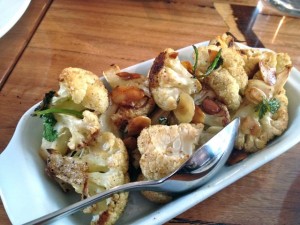 And the finale – Spiced cauliflower and almonds, perfection! Gorgeous fragrant cauliflower with smokey burnished almonds!
This place is an absolute star, amazing fresh ingredients, seasonal produce that is obviously from great producers and a chef that is rocking a great menu! I cannot wait to come back and try some carnivore fun from the coal pit!!