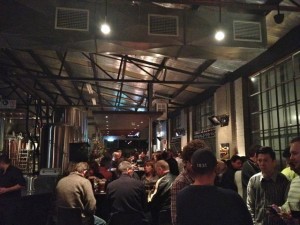 2Brothers Brewery – what a totally cool place!! Beer, pizza – Done!!
"The 2 Brothers brewhouse has travelled all the way from New York City (Times Square) to Bayside Melbourne – Moorabbin Victoria. On completion of the brewhouse construction, Dave and Andrew decided to share this showpiece brewing system with beer lovers and interested folk."
Thursday and Friday nights there is beer to enjoy or a cheeky cider, 4 pizzas and an antipasto plate – simple and fantastic!!
Beers with character? What more could you want! You can choose from the following – quoted straight from the site, they know how to talk beer!!;
The Growler -Bronze Medal – 2008 Australian Intl. Beer Awards
Described as "the satisfier (in the beer sense!), a character filled American style brown ale. When you indulge in a Growler, you will experience complex biscuity and malt qualities, with hints of dark fruit aroma. The Growler has a rich brown colour with a medium body – satisfy yourself with one of these."
TAXI – Silver Medal – 2008 Australian Intl. Beer Awards
"TAAAXI! … it's an essential part of a big night out. This clean German style pilsner was designed to be a no-brainer. Brewed only mit Malted Barley, Hops and Water, it has a soft malt character and a balanced bitterness. We're pretty confident it will drive you home"
The CHIEF – Seasonal Märzen Beer.
The Chief is a Munich style amber lager. Smooth creamy mouthfeel, toasty malt character and approximately 6.3% ABV.
VOODOO – A very scary black beer … VOODOO is now. VOODOO is a Baltic Porter style dark lager. Voodoo was awarded the Premier's trophy for Best Victorian Beer, 2010. Brewer's notes: coffee, espresso and liquorice character with some alcohol warmth. Close to 7% abv. Step up!
And my favourite cider tipple;
Gypsy – The crispest Pear Cider ever.
After a heap of research and a bunch of test brewing, we've finally crafted our first tasty batch of Gypsy – a crystal clear sparkling pear cider. Gypsy is made from a blend of pears and apples.
Brewer's notes: Sparkling straw color, pear /candy aroma. Gypsy is a semi-sweet cider with a predominantly pear flavour and vanilla notes. Medium acidity with a crisp clean finish. Gypsy is a cider worth travelling for.
And when you need a little something to soak it up the pizza machine is running on full speed to deliver pizzas 1 – 4! Nothing fancy, good food served hot!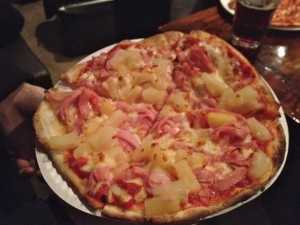 Ham and Pineapple – damn fine!!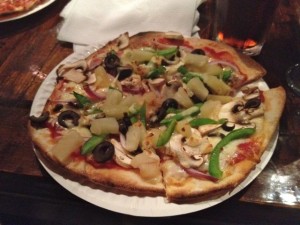 Olive, green pepper, pineapple and mushroom – fantastic!! How good?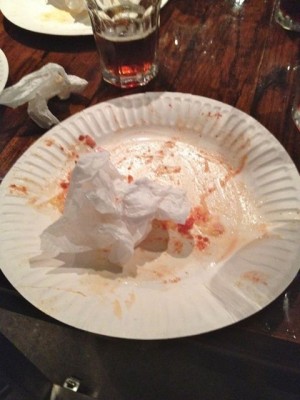 Totally brilliant – a great night out!