And back again for more amazing coffee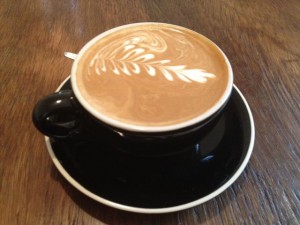 AND quite possibly the best BLAT ever!!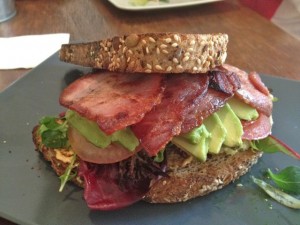 Gorgeous bread, multi grain and wonderful with generous, not fatty bacon, fresh avocado and tomato with a little cheeky chipotle mayo! Oh yes!!
————————————————————
Published 11th May 2012
My favourite coffee hit on a morning! Can't beat it and sometimes I give in to a wonderful savoury muffin or any other wonderful treats they have on offer!
Today we get to try breakfast and what a great decision that was!
Heuvos Rancheros is a beautiful dish with a hearty serve of baked chorizo, white beans stewed with cheese, baked egg and crusty bread. Stunning!
But they are nothing compared to my Smoked Buxton trout piled onto a crispy potato rosti with spinach, a perfectly poached egg and dill dressing.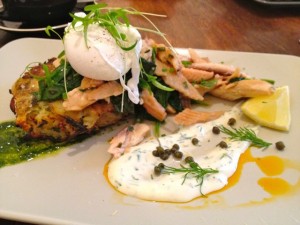 Words cannot describe!! There is a lot of the moist smokey trout, the potato rosti is sublime and the poached egg bursts joyfully and runs all over the dish to combine with the dill dressing to dreate the best breakfast dish ever!!
We love you Percy and your aeroplane!!
Previously published 28th January 2012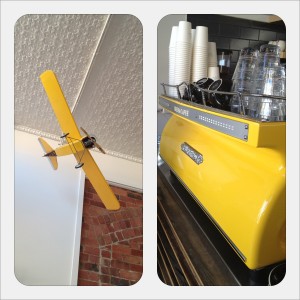 Another addition to the great places to hang in Kew! And this one does a wonderful coffee!
Not long opened and looking good! Gorgeous decor and love the big bright yellow aeroplane – Percy's probably!! And the matching yellow coffee machine!!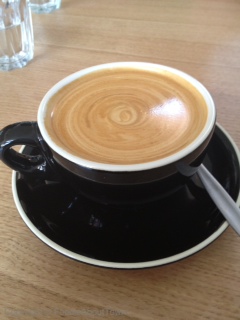 The menu is a good mix of easy going dishes for lunch, flat breads filled with lamb and feta and chicken and stuffing, big boy homemade sausage rolls, salads and sandwiches…… but we cannot go paste Percy's special pot pie!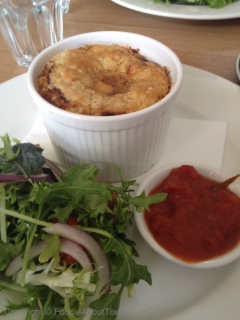 Stunning! It is 32 degrees but I am taking one for the team!! The pastry is amazing, a polenta pastry (I think), light and crispy with a homely shortcrust-ness!! The filling of slow cooked beef and mushroom is rich and decadent – this is a perfect pot pie and though probably better enjoyed in a big leather armchair with a bottle red infront of a crackling fire, we both practically lick the bowls clean! Great side salad too – fresh, thoughtful and tasty!!
The staff are lovely with plenty of smiles and we know we will be back very soon!
There is also a fantastic courtyard at the back which will be perfect for the long sunny afternoon… if it's not full of nasty smokers!!
See you soon Percy!
On another trip – I grabbed Breakie and a coffee!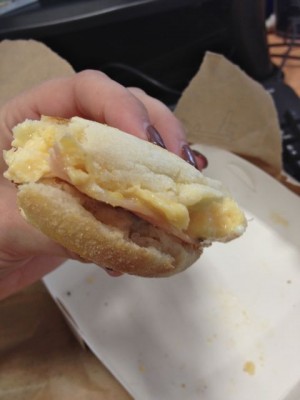 The most amazing egg and ham muffin! Fluffy folded eggs, melted cheese and fresh sliced ham – so amazing!!