I'd read a few posts on Urbanspoon about how many Choo Choo should really allow in the booths and we had had a run in with a less than friendly staff member there a while ago but everything deserves another go!
It's cold, rainy and miserable but Choo Choo is dark and mysterious and welcoming, the front bar is always really nice and there is soon a rather lovely gin ready to go!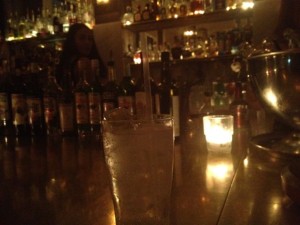 Warning bells at a possible 8 people in the booth… it's ok there are always a few no shows! But it is also HOT or I have a temperature, either way they are making sure the cold from outside stays there and we are all snug in our booth. I reckon just four or two with the doors shut and the bell to bring wonderful food and boose would be perfect but we are all ok!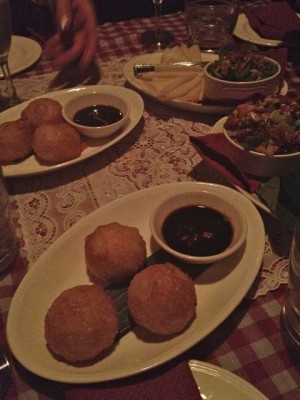 The menu is a great mix of lots of small bites, skewers, dumplings and salads with the asian twist of sister restaurant Cookie downstairs. There are also curries, party pies and buns including the 'Chilli Pork Sausage Subwith Coriander & Ginger Coleslaw' which sounds amazing!
The 'Sweet Potato & Cashew Dumplings with Chilli Soy' are really yum, we should have gotten more!! And the 'Beef Marinated with Coriander & Kaffir Lime' skewers were really tasty!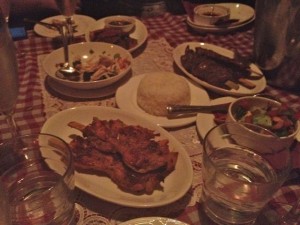 'Chicken Marinated with Turmeric & Lemongrass' were big skewers with lots of flavour and the 'Betel Leaf Salad with Chicken, Peanuts, Ginger, Chilli, Lime & Tamarind' is a powerful little bowl of fun!! 'Peppered Pork Sticks with Pork & Peanut Relish' are also a good sized portion and the table is pretty full now!!
Desserts come in the form of;
Banana & Ice Cream Roll with Roasted Coconut & Peanuts
Strawberry, Coconut & Chocolate Mousse with Mint & Whipped Cream
Tapioca & Sour Cherry Pudding with Palm Sugar Ice Cream
But we are too full! Maybe next time… with just my nearest and dearest!