Just off Bourke Street we walk past all the fools queuing in the rain for Mamasitas and head straight to the warmth and welcoming joy of our reserved table at Pei Modern! Tick tick for taking bookings and looking after us! I really liked the staff at Pei Modern, even though our table had a few different people visit they were all really nice and perfectly professional!
The menu is a wonderful mix of dishes including a very tempting list of bar snacks – remember that for next time we need a drink and a nibble at the top of town!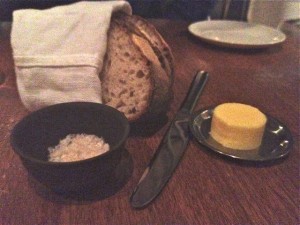 A friend had raved about the whipped butter the week before and with the gorgeous fresh sourdough I am in complimentary bread heaven!! And then we are off! We start off with a couple of NSW Oysters and they are stunning.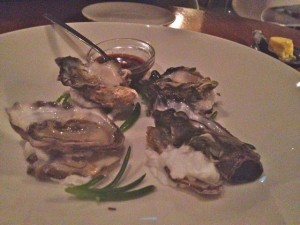 Mine were absolutely gorgeous, hubby was pulling a fair bit of shell out of his mouth which was shame – I wasn't the oyster princess tonight!!
Entrees I go for the chicken liver parfait with brioche – a very generous slab of perfectly smooth, luscious amazing pate! Slathering onto the toasted brioche and I am in heaven!!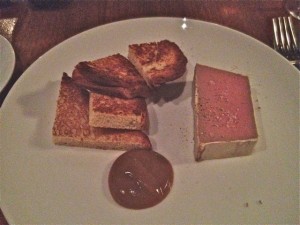 Hubbys Grilled Octopus with artichoke stems and sea herbs if really good, perfectly cooked tenticles with standout flavours from the herbs, just a great dish!!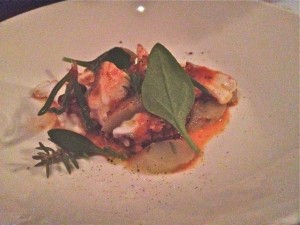 Onto the mains and I get the special that night – Eye Fillet with smoked beetroot and fresh horseradish, I didn't actually remember being asked how I wanted it cooked but it was perfectly medium rare and just how I like it!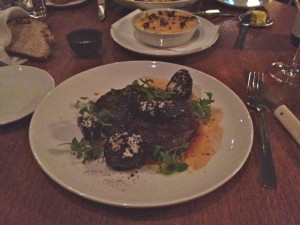 Soooooooooooo good!! Succulent beef that the knife just cuts through like butter! Love the smokey beetroots and I LOVE fresh horseradish!! For me a perfect dish! AND with the cauliflower and parmesan gratin…. HEAVEN!!
Hubbies Salt Crusted Swede and Slow Cooked Riverina Lamb and fine onion tart is a standout dish but the picture was terrible so you will have to go and see yourself!! The lamb just fell apart and was so rich… so good! The onion tart was very fine! It looked like a nacho on it's own little pate and seemed a bit lost from the main dish but it tasted fabulous!!
Dessert? Ofcourse!! White Chocolate Ganache with mandarin and sorrel sorbet was divine! The ganache was lovely, the mandarin refreshing and the sorbet was amazing!!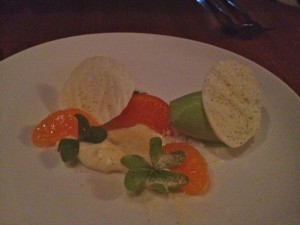 Not my best pictures but a great meal, lovely staff, great service, brilliant wine list and a thoroughly great night! Thanks everyone!