It is an amazing time for food and foodies in Melbourne and with a new spot popping up every 5 minutes across the different suburbs it is hard to keep up with!! But when we get a new spot in Kew we are very excited as its means a little adventure out and away from our desks to check it out!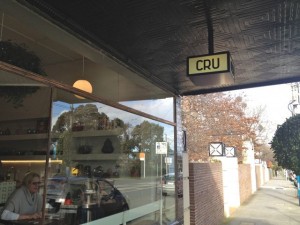 The fit out is cool with a central bar taking up half of the space and filled with all the dudes getting coffee for the lucky visitors and cute cakes and pastries to snack on. The attention to the details and the little things are what always makes me smile! I love the cute aprons and the decorations filling the shelves behind the bar. In some places these might be full of bags of coffee and napkins but there are full of whimsical keepsakes!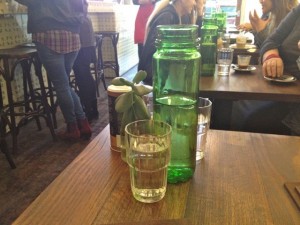 The menu is fabulous, I love (and despair) when there are so many good dishes, it gets hard to choose!! There is a great mix of brunch dishes with a fantastic looking porridge with pistachios, honey, figs, cranberries, yoghurt and rose petals! I don't think the small child next to us appreciated his amazing breakie! Perhaps mum should have gone for the 'KiddieWinks' items on the menu – I'd go for 'Egg n Soldiers, Knees n toes' anyday!!
There is also Eggs, Roesti, Fruit Bowl, En Cocotte and then into Lamp Pot, Burger, Sliders and Salad and then into pressed Turkish Breads and filled baguettes! YUMMMM!!
Feeling a bit under the weather so I go for the enticing – Angus Burger – Red Leicester, Ruby Endive, pickled cucumber and brioche bun…….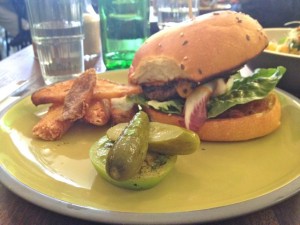 Wow, wow, wow!! The most gorgeous crunchy wedge fries, a grilled green tomato, tangy picked cucumber and thats before we even get to the burger! It looks like a big one to attempt to pick up but it actually squashes down to be very manageable and enjoyable! The bun is perfection and the burger…. so incredibly soft but holds together… it's really very, very good!!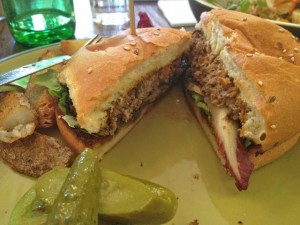 Totally Rocks!!
My friends Kedgeree – Smoked Cod, Vadouvan, Spiced Basmati, boiled eggs and chilli wafts to the table with it's tempting curry aromas and it is bloody good!
Vadouvan is a ready-to-use blend of spices that is a derivative of Indian curry blend with a French influence. A variant of a masala – learn something new every day!!
Totally gorgeous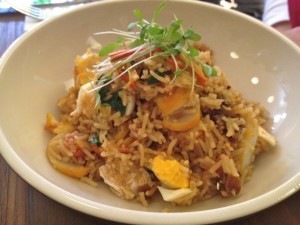 The Crew at Cru are super cool and I have no idea where all these hipsters were hanging before but I am glad they have arrived in Kew!