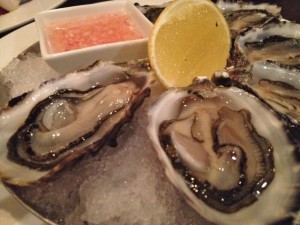 We just can't stop heading back to the Wayside Inn! Probably because they do such amazing food!
Barilla Bay Oysters are perfect, wonderful, gorgeous!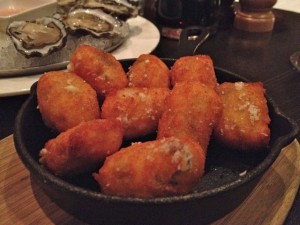 The Wagyu beef croquetas are the sort of dish that you know you should let cool but they are just tooooo delicious to leave for even a minute – super cheesey, fluffy and yum!!
My Whole Flounder with fennel and hazelnut salad is a perfect light meal after a lovely lunch earlier! Not cheap at $42 but it is superb, the fish easily falls away from the bones and tastes wonderful. The salad is amazing! Crunchy and nutty with a really lovely light dressing – ACE!!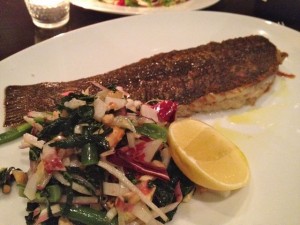 Hubbies choice of Trotter was adventurous and not something I embrace, I will try most food but there are certain parts that were meant to be wasted! Tripe, kidney, feet!! It was a bit hard to make it look pretty on the plate!!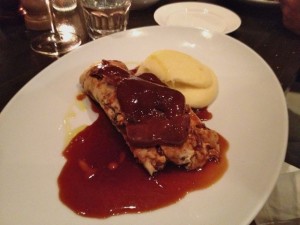 I tried a bit – it was ok…. the test was later when I was told that is was lovely, great, brilliant but "would you have it again" swiftly responded with "No!" – so not that great then!!
Shoestring and hand cut chips were happily shared and the sprouts with nuggets of crispy bacon were perfectly cooked and perfectly wonderful!!
Everyone thoroughly enjoyed their steaks including the 500g rib eye cooked perfectly medium rare! Very impressive!
As always staff were lovely and I expect we'll be back again soon!!!
………………………………………………………….
Previously visited 9th February 2009
Back to the Wayside and we are set up at one of the comfy tables in the back restaurant, super light and easy going it is a nice place to be! Comfy chairs is a plus!
The full menu is really impressive, Poissons, Rotissoire, Offal and Legumes this is top notch pub grub! The girls are after some serious red meat and the Dry aged grass fed rib of beef with bearnaise is the perfect choice – a big plate full of glorious rosy beef with that wonderful charred edging hmmmmm!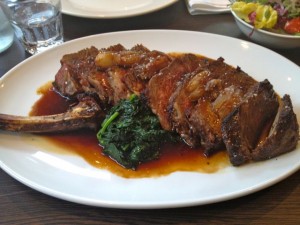 Some super chunky, crispy chips and delicate side salad, this is the dish for meat lovers and sharers!!
I opt for the Ocean trout fillet and am not disappointed, super crispy skin, perfectly cooked and a fantastic piece of fish with a great tomato salad.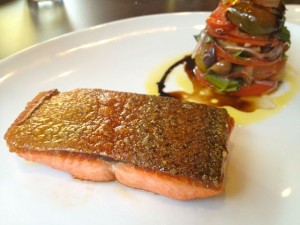 Divine! There aren't enough words for how wonderful this was!!
Beetroot and farro salad with Persian feta is a super healthy lovely side for everyone to tuck into!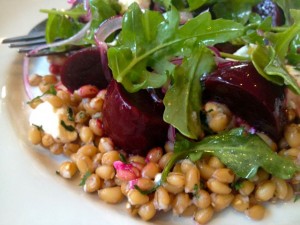 The Rotissoire du jour is the Suckling Pig with apricots, looks pretty good hey?!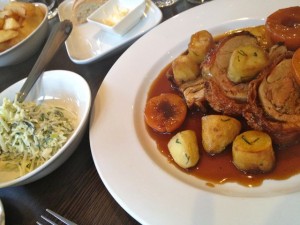 The Wayside is plating up some seriously good food, I am very glad they are so close to home – why would I cook anymore?!?!
——————————————————————–
Published January 17th 2012

The Wayside Inn is a little gem! A happy place on City Road to enjoy a drink in the sunshine or some impressive restaurant food.
The bar menu is good and the restaurant menu sounds fantastic AND they are happy to let us order off the restaurant menu in the bar – it's the small things that make this a great place.
The staff are gorgeous, lovely and friendly and helpful, they make you want to come back very soon!
AND the food….. soooo good!
The Burgers are a little stack of wonder!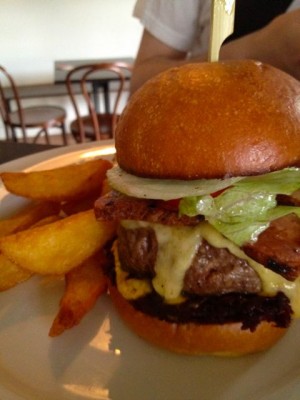 It is packed with a chunky little meaty grilled burger, perfect glossy little globe topped bun, salad and beetroot relish. The cheese is to die for!!
Love love love!!
The hand cut chips are chunky, crunchy yum-tastic….. how good do they look!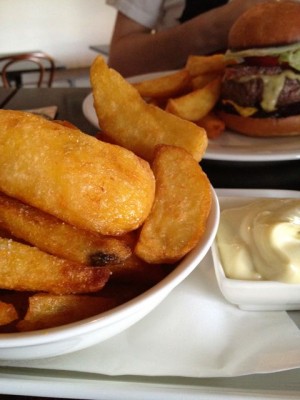 There is some great sounding seafood on the menu and there is an oyster happy hour every afternoon, the oysters tonight are creamy, natural and damn fine!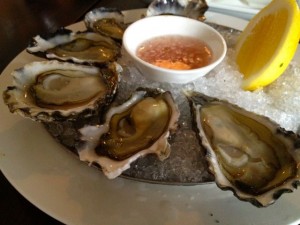 Wayside Inn you are wonderful and I can't wait to come back for some serious steak!!