THIS RESTAURANT IS NOW CLOSED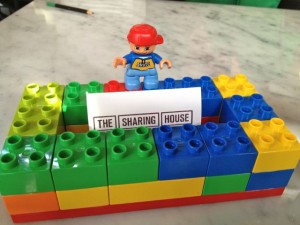 After a little sneak peak a few months ago The Sharing House has been on the list to visit for a while and we are glad to have a good excuse! And a real test of a good all round menu with a small person, some allergies and an intolerance! How did we go! Pretty damn good!!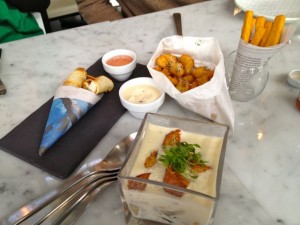 A few dishes to share and the chickpea fries are really good, a small serve, delicate crispy, tasty sticks, unfortunately no 'normal' fries available and my little friend can't have chickpeas but there is plenty more to choose from!
The Rabbit and cauliflower popcorn is definitely a hit and the modern take on fish fingers go very well! The Moules are delicious swimming in their creamy sauce!
The menu has changed a bit since our last visit but it is still all about Sharing and there are some serious sharing plates to enjoy including an 800gm rib eye!!
We go for the Pork belly and are not disappointed – a perfect portion for four people!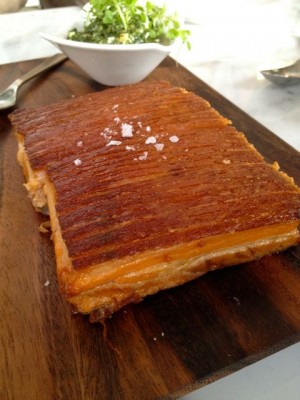 Wow – super succulent!! The accompanying salad with beetroot and walnuts is great, super fine sticks of beetroot and the crunch of the nuts make a great friends for the pork and the Roast potatoes and bacon 'salad' went down well too!!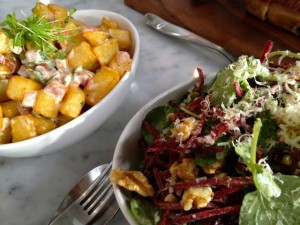 The osso bucco spaghetti bolognese is a smaller portion but still works well with all of our other dishes and we are all quietly tucking in! Our little friend enjoys the Margherita pizza and the staff are more than happy to check a few queries on the pizza and soy products etc.
We went easy on the mains and it was total tactics for the desserts menu that had already been scoped out! The ice creams are totally cute;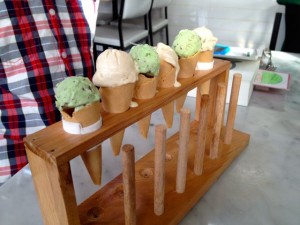 AND Afternoon Tea – hubby is in heaven with his mini cakes selection… and I get to try a little taste too!!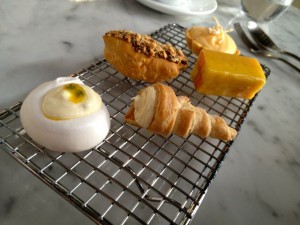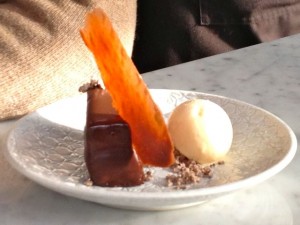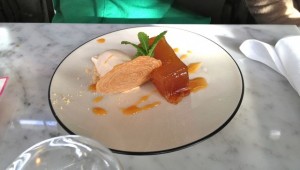 The Caramalised Apple cake and Salted Caramel Chocolate cake look fantastic and there is a little surprise hiding in the base of the caramel cake- popping candy!! So much fun – just as food should be!!
We had a great time and I am thrilled again that South Wharf Promenade is hitting home runs with their restaurants and we can't wait to come back to try some more!