WOW!! As a previous Bay Street resident I remember the old Rose and Crown and this is very different and all for the better!
The space is really open and welcoming with a good bar area and then a great space at the back for the 'diner' and window into the kitchen.
There are some familiar faces and there is no problem getting our table, a menu and a drink – super speedy!!
Cava comes in the 'pink panther' glasses that make me chuckle and give us a hint into the slightly kitchy cute edge to our dinner tonight!!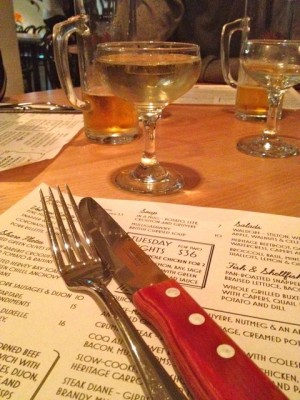 The menu is fab! There are Vol au vents, share plates, soup, salad and mains that all sound great! We go for the four different vol au vents – pine mushroom & bearnaise, snapper & dill, coronation chicken and pork rillette with fresh apple. STUNNING!!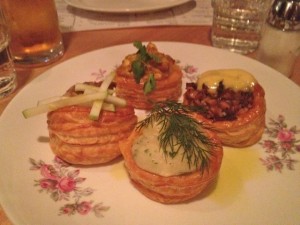 Check out the cute plates that Granny used to have!! And they taste sensational!! So very, very yummy!!
For mains we are all off on our own agenda, there are some very quick and definite choices!! Steaks and Sausages all round!!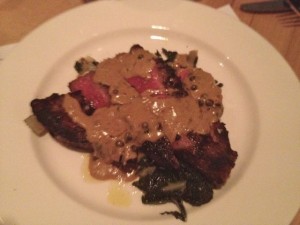 I apologies for the rammy picture, but even in a bad picture it looks damn good and it was! A lot of perfectly cooked steak with a wonderful creamy peppery sauce! Perfection!! The Gippsland black angus porterhouse is incredibly tasty and the traditional 'diane' sauce with brandy, mustard and shallot is totally yum!!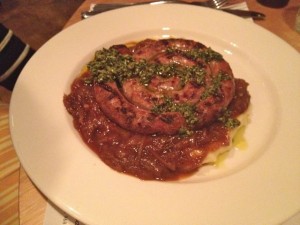 The house-made cumberland sausage with creamed potato and fried onions is reallllllly goood!! A little food envy creeping in but I am hangin' with Diane!!
The chippies are all good BUT the best of the best and forget the rest?….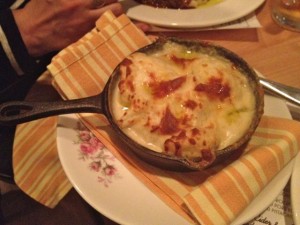 OMG, get a room, rock my boat!! A perfect side dish for my steak, infact just a perfect dish! I loved this is was just perfection!!
So we should be full but the desserts have a few old fashioned favourites so we decide we can try a 'few' – four spoons please…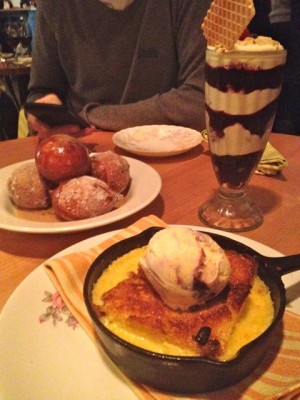 Valrhona Chocolate Doughnuts – wow, it is a hell of a serve! They are big balls!! Happy to share between four of us, you couldn't tackle this one on your own!! The Knickerbocker Glory with Blueberry ripple ice cream was also big and gorgeous! With our long spoons we delve deep and it is yuummmm!!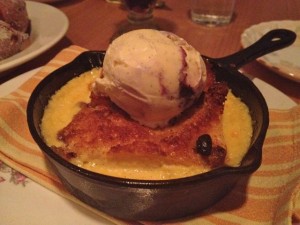 The Bread and Butter Pud is stellar! You can't argue with the perfect custard enveloping spongey lovely pudding studded with currants (or raisons?! I can never tell!!). BUT give me old English Trifle any day! This was monumentous!!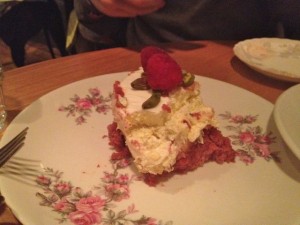 The sponge base was perfectly soaked in the boosey fruity juices and then great custard and cream…. I could totally smash a dish right now!! So great!!
Overall a perfectly delightly evening!! Staff were gorgeous, food was brilliant and even with the rowdy singles night going on upstairs we were very, very happy!!!