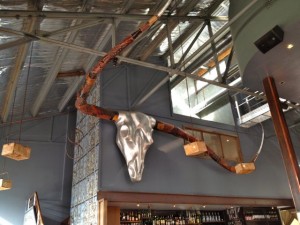 I'm a big fan of the new restaurant development down at South Wharf Promenade and everytime I go back I am really pleased with the quality of food and service happening down there!
Meat Market is certainly no exception, infact my only bug bear with South Wharf is paying for parking and it seems everyone is catching on with discounted and complimentary parking – including Meat Market – thanks guys!!
The set up is really welcoming for a lazy Saturday afternoon lunch, the big silver cattle skull and horns on the wall reminds you that this is about meat folks! There is actually a lot of choice here, a reasonably priced lunch menu, solid main menu and a heap of specials that I was very impressed our host was able to relay to us!! There is fish, chicken, burgers, venison, pork belly, calamari, bone marrow, prawns and chops! Something for everyone!!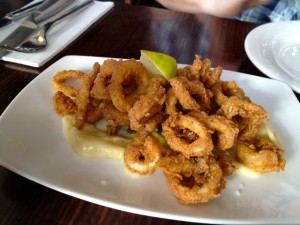 The Chilli snap fried calamari is super!! Great crunch, no grease, small nuggets of calamari with a really good kick to it! This one makes your lips zing and I love it!! The peppered venison with beets, cucumber, yoghurt and lentils was also a great dish to share and with a good level of pepper – no wimpy flavours here!!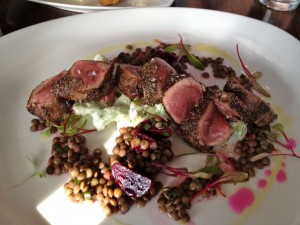 The staff are as lovely as the Winter sunshine outside and excellent at looking after us, no problem getting a glass of vino or water refill.
The central kitchen is interesting, I always wonder what the chef and team think of being on 'display', I am sure they have nothing to hide but still when you have someone like me pointing and taking piccies it must be a little bit weird!! Do you think thats why Chef hid from me??!!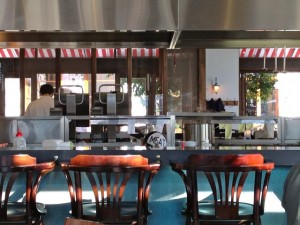 Nah, not really!! He seemed super happy and oblivious to nosy bods like me!!
So mains – I am sooooo in the mood for a damn good steak and I am not disappointed! No stupidly expensive steaks here, there are three at the $30 ish mark and range from 200 – 350g, sauces are free and sides are extra. There is a 450g rib eye for $60 but I would expect to pay that for nearly half a kg of meat!!
But it's lunch and I am a lady!! So a modest 200g eye fillet with red wine jus will be just lovely!!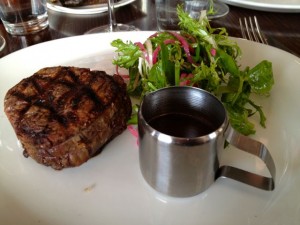 Perfection!! Charred outer and perfectly done medium rare inside! The jus is delicate and matches perfectly, a light salad is great but we couldn't turn down the hand cut chips and a really good spinach and pancetta salad.
A cheeky portabello mushroom goes down very well too!!!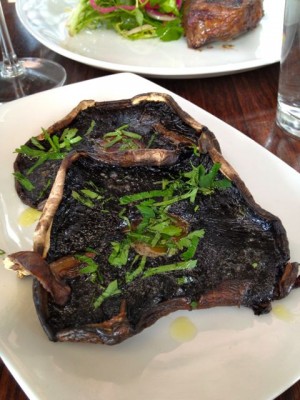 Everyone seems very happy with their eye fillets and porterhouse steaks and the peppercorn sauce is a hit! The Market Special Fresh Roast sandwich is chicken today and at $18 is a bargain for the mammoth treat that arrives!!
Pretty impossible to pick up without a bit of deconstruction but is generous, impressive and by all accounts damn good!! Roasted pumpkin, roasted chicken – lots of it, light salad and shoe strings… what is there not to like!!
I don't think you can go wrong here, there are some great offers for lunches, after work drinkies and meals for anyone at anytime, the only thing I struggled with was not stealing the resident pug basking in the sunshine outside, like the Meat Market he was toooo cute and I didn't want to leave him behind!!
Read about our other adventures down at South Wharf here!