Fate is a wonderful thing! I love it when we end up eating somewhere unexpected, when we left the house in the cold and rain I didn't think we would end up in Africa! Infact we were hoping to end up in Mexico but the queue was too long!!
Sahara sits unassumingly on Swanston Street, a dimly lit doorway with some pretty steep stairs before you enter a cosy, casual little haven!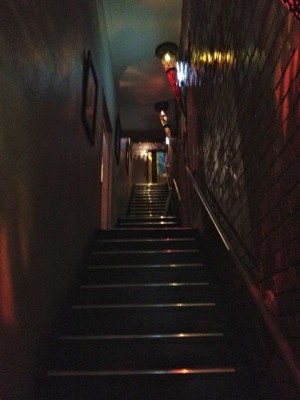 The smell hits you as soon as you enter the room, warm spicy and we are hungry!!! It's service with a smile and we are lucky enough to get the last table! Wine is quickly on the table and we do our usual job of ordering a bit too much!!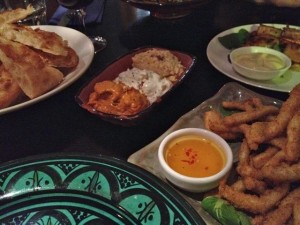 The bread and dips is a nice reasonable sized serve and the pumpkin dip is GORGEOUS. The 'Crispy Calamari seasoned with moroccan flour and coriander dipping sauce' is a favourite, the dipping sauce is wonderful and the calamari really good! Harissa Prawns char grilled with lime dipping sauce are nice, good quality and flavourful.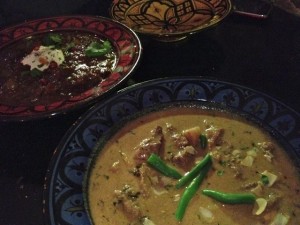 The Lamb Tagine – braised diced lamb in prune and apricot sauce with green olives is fantastic! Pot luck whether you olive is pitted which can be a dangerous game but the flavours are fab and the meat just falls apart! Delish!!
The Braised Beef and yoghurt with potatoes is great and with the jeweled cous cous it is a really enjoyable meal!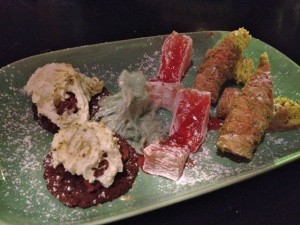 The Dessert platter with turkish delight, pistachio chocolate mousse, baklava and Persian fairy floss is gorgeous, we didn't need more food after our feast but who can resist fairy floss! The choccie mousse is my favourite!
This is a really great place with good, honest food and lovely service, if you happen to be passing by you could do a lot worse than a night in Sahara!