Milawa in the King Valley is a wonderful spot in the World! The 'gourmet region' is home to Milawa Cheese, Milawa Mustards and Brown Brothers Winery.
If you are lucky enough to find yourself in this neck of the woods and manage to get a spot at the Brown Brothers Epicurean Centre you will certainly be in for a treat! I recommend that you book out a whole day, get a room at the gorgeous hotel across the road and leave the car keys and your breakie in the room!
The Cellar Door is pretty special and there are a crazy amount of wines you can try and even better – no tasting fee! The friendly and knowledgable staff will take you on an adventure through as many as you like such as the fruity, light Sparkling Moscato, the new and very lovely Prosecco, earthy, rich Limited Release Durif and the fun and delightful Orange, Muscat and Flora!
Who knew there were so many wines out there!!??
But just when you feel sad that the adventure has come to an end you can head into the Epicurean Centre and let the feasting commence!! Originally set up to celebrate the happy union of food and wine you can select from a seasonal menu of wonderful local products matched with the perfect Brown Brothers wine!
The menu takes some time to appreciate the attention to every flavour and texture that the chefs have worked through to create perfection on a plate! With elements such as Citrus cured swordfish, Mustard poached quail, celeriac remoulade and brown butter and almond sauce…. mouth watering yet?!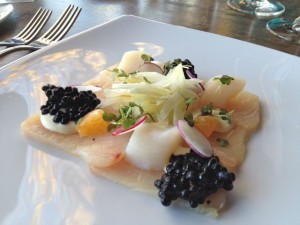 How pretty is that?! Citrus cured swordfish, poached scallop, mandarin & fennel salad WOW!! A generous plate of the most fresh, stunning fish with delicate fennel and a pop of mandarin! Just sublime!! Matched with the Brown Brothers 2011 Pinot Grigio it is just heavenly!
The mains are a selection wintery delights with heart warming dishes such as;
– Autumn farro risotto, mushrooms, salted ricotta and poached egg with 2010 Tarrango
– Lightly smoked pork scotch, braised red cabbage, swede and candied cumquats with 2010 Tempranillo
– Pan fried mulloway, garlic puree, calamari salad, brown butter and almond sauce with 2011 Banksdale Chardonnay
– Breast of chicken, parmesan calzone, brussel sprouts, cotechino & jerusalem artichoke puree with 2011 Chenin Blanc
– King prawns, pea puree, butter poached leeks, hazelnuts & rabbit cigar with 2009 Tempranillo & Graciano
– Eye fillet of beef, braised butter beans, caramelised onion and horseradish butter with 2010 Cabernet Sauvignon
Such a dilemma and one that I am lucky enough to have quite often – Shhhhh don't tell everyone but I get to work for the Wonderful Brown Brothers and eat here quite often!! So watching the waistline I opt for a second entree! I can't go past any dish that brings lamb and celeriac together!!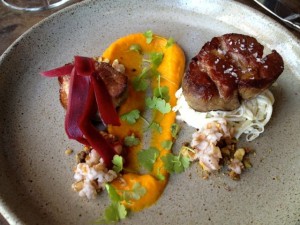 Ladies and Gents I give you – Slow cooked lamb, celeriac remoulade , heirloom carrots & pistachios! Simply divine! The dish has a lot of lovely small touches that unless you take a little time you might not realise how much care and love goes into this food! Look again and count the different elements – that is dedication to flavour right there! Chef Douglas Elder recently posted on the Brown Brothers blog about the 'Evolution of a dish' and this is an amazing insight into how your lunch comes together!! It is a work of art!!
Thoroughly enjoyed with a glass of the 2010 Merlot – we are very spoilt!!
No dessert today but again there are some amazing sounding dishes such as the Orange jelly, cheesecake, persimmon, & macadamia nut crumbs or the Chocolate fondant pudding, licorice, nashi and marshmallow ice cream.
And then if that wasn't enough there is cheese!!! See why I recommend you stay all day and skip breakfast!! So I might be a little biased, I do have a soft spot for this heavenly destination but you cannot fault the care and attention that is going into this menu, the local produce is treated with great respect and served with great care and attention – a winning combo!