On a rainy afternoon on Brunswick Street the Robert Burns Hotel is a little cosy watering hole with some Spanish flavour going on!
You can't miss the massive bulls head mounted above the fire and anyone who didn't realise Robert Burns was from Spain would be a little confused but once you meet the friendly staff and see the menu it all clicks into place and you get set for a trip to latin foodie heaven!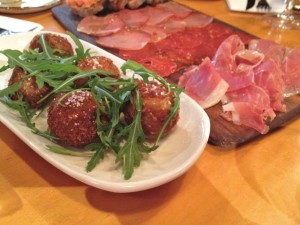 Obviously all about tapas and sharing the menu offers a great selection of small dishes, cured meats, paellas and plenty of fish and meat! But best of all there are plenty of platters on offer for everyone to share.
The cured meat platter was a must!
– Jamón Ibérico – Aged 36 months
– Chorizo Salamanca – Cured and seasoned with paprika
– Lomo embuchado – Smoked and cured pork loin
Absolutely YUM!! And the 'Croquetas de hongos trufados – Organic mushroom croquettes with truffle essence' were a stand out dish for me! I did a little happy dance when I tasted them!!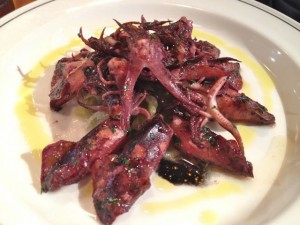 The 'Txipis pelayo – Baby calamari grilled and served with caramelised onion and green pepper' was nice, good quality calamari cooked perfectly so it was soft and not chewy.
But the best bet we took all day – the 'Parrillada de marisco y pescados – Grilled seafood and fish platter' was pretty impressive!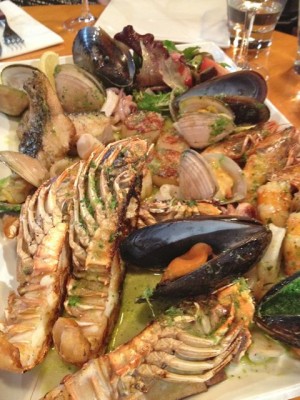 Sold as a platter for 2 to share it was BIG! Plenty of soft scallops with a great crisp edge, prawns, clams, mussels, calamari and cray – simply stunning! Generous, all really well cooked and the flavours all stood out exceptionally!
But then the meaty platter arrived!!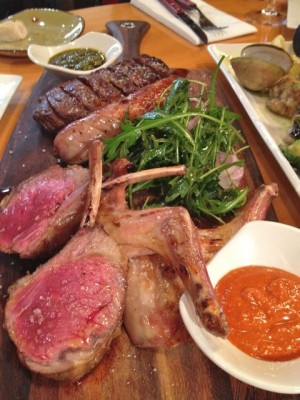 'De La Parrilla – From the Grill – Prueba nuestra parrill – A selection of our finest rabbit, cutlets, sausage and sirloin served (for 2)' WOW! The sausage was really good, that went super quick! The sirloin was well cooked and tasted great with the pesto dressing. The lamb was really rare but that was fine with me and again so tasty! The rabbits legs didn't get much of a look in with the rest of the lovely food and I am usually a fan!
The service was pretty average, with few tables occupied we had to ask for water several times through lunch and though there were smiles there didn't seem too much interest but you couldn't fault the food!
Those lucky people who live near this stretch of restaurants have yet another great choice – I doubt they ever cook!!