To quote the website……
porgie+ mr jones – just a cute cool little cafe in the middle of conservative hawthorn filled with shiny, happy people, come say hello…!!
And it is super cute and very cool! I immediately feel at home as we walk through the different rooms spinning off from the main entrance. Happily settled on a long gnarly table with a very lovely sounding menu!
There is antipasto, soup, bruschetta, plus toasted piadini with flavours such as chorizo, sweet potatoes, fetta, honey roasted pumpkin, Jindi Brie, poached Happy Chicken!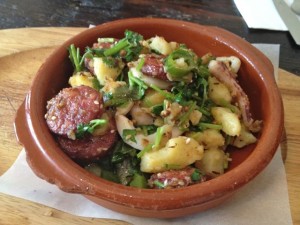 How good does that look? The Sauteed Calamari salad – chorizo, green chilli and coriander potatoes is delicious!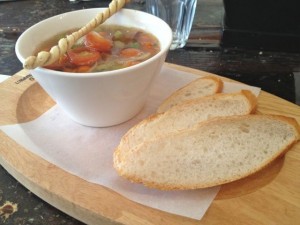 My Vegetable Soup – smoked pork hock, farro and porcini pastry straw is so lovely! Little delicate rounded carrots and zucchini with cherry tomatoes and chunks of wonderful slow cooked ham hock!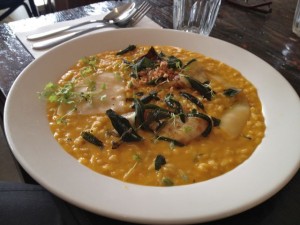 Stunning! The Risotto of pumpkin – grilled zucchini, Caciocavallo cheese and crispy sage is just the right consistency and tastes divine!
Such a wonderful place…. I wish we could stay longer!