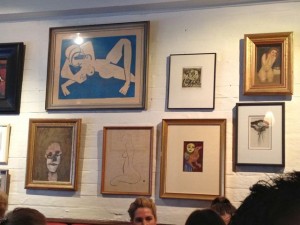 An institution since 1993 there is something a bit naughty about Cicciolinas! From the naked outline on the website to the blatantly naked artwork on the walls of the restaurant and her sister are certainly channelling their namesake! To quote Wiki;
"Anna Ilona Staller (born 26 November 1951), widely known by her stage name, La Cicciolina, is a Hungarian-born Italian porn star, politician, and singer. Staller continued to make hardcore pornographic films while a member of parliament. She is famous for delivering political speeches with one breast exposed."
A staunch favourite on Ackland amongst the cake shops, there is a funky bar at the back and restaurant on the front. Bookings only for lunch!
The menu is traditional Italian with pastas, risotto, steaks and more! The specials board screams wonderful local produce and the wine list has a diverse selection of great wines!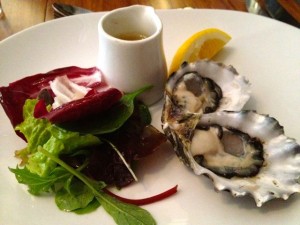 We go for a couple of Natural oysters from Pitt Waters Tassie to start and though they are shucked they have lost their 'juice' a bit and there is a fair bit of shell in there – I know I am such an oyster princess! But they are delish and a perfect way to start with a glass of Hugel Pinot Blanc YUM!!
Entrees take the bar up fast and high! The Tuna Carpaccio with lime infused olive oil, capers, watercress and grilled sourdough is HUGE!!! It is like a big Tuna Flower!!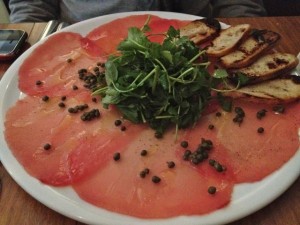 It tastes completely divine! The tuna is soooooo incredibly thin that I have to point out the roll with a fork technique is probably better than the scraping going on!! It does look big but the tuna is so thin it is a delicate and light dish for a brisk winter day!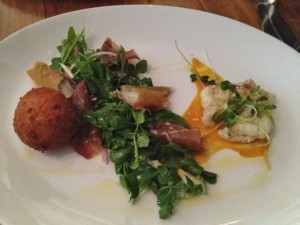 My special is just a fabulous – Balmain Bug with Shellfish Veloute, cumquat arancini, smoked mackerel, bresola and cress……………… Just wonderful! Each element is delivered perfectly! The balmain is so tender and delicate, the arancini has a light flavour of the cumquat and is all gooey inside like I like it!! The smoked mackerel is firm, flavoursome and it all comes together to make a pretty perfect dish!!
And that was only the starter!!
Mains – Roast lamb and lasagne! The lasagne is generous rich, layered pasta with real tomato sauce, prosciutto, mushrooms and basil! How good is it? My hubby came here 6 years ago and had the same dish and has talked about it ever since – this one was just a legendary!!! Just good, wholesome enjoyable flavours YUMMY!!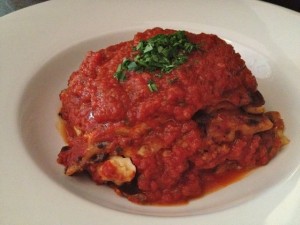 My 'Pink Roasted Lamb Loin with mustard seed and almond crumble, gnocchi, roasted root veg and red wine sauce' is just soooooo incredibly good! Lots of perfectly cooked lamb with soft pillows of gnocchi, parsnip,. beetroot, carrot – divine! The crumble and the sauce – genius! We are so happy we have to order another bottle of wine!!!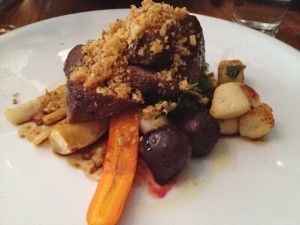 Apparently we have grown roots and can't leave so dessert is next!! After much deliberation we settle on the Apple Tarte Tartin with clotted cream!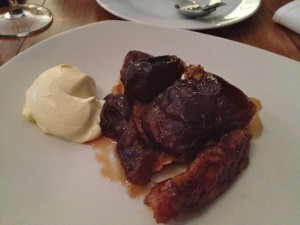 Excellent though we totally didn't need anymore food, love the caramelised apples and the rich cream – FAB!!!