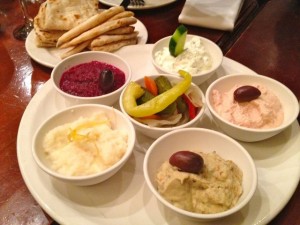 Brunswick Street is foodie heaven, so many fun places to explore and a variety of cuisines to choose from, Pireaus Blue has been around for a long time and I am thrilled that we get to go and have some fantastic greek food!
The dips platter is heavenly! Tzatziki, Taramosalata, Skordalia, Eggplant, Beetroot and a pile of pita! The Skordalia is so delicious – the best I have ever had! I love them all and it takes great restraint not to fill up on heaps of bread and wonderful dips!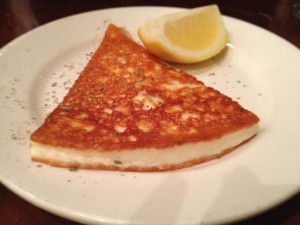 Saganaki – Grilled Kefalograviera Cheese – perfection! This is a wonderful grilled cheese, the burnished outer and a little squirt of lemon just brings out that distinctive Saganaki flavour!
The 'Fresh SA Calamari Lightly Floured and Fried served with fresh Carrot and cabbage salad' Just gorgeous! Not greasy, crispy, yummy!!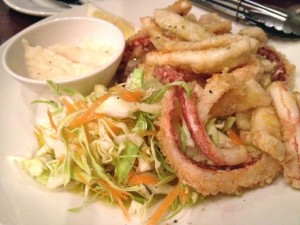 The Baked Lamb Special is a wholesome bowl of succulent lamb, slow cooked until it just falls apart with your fork – LOVE!!!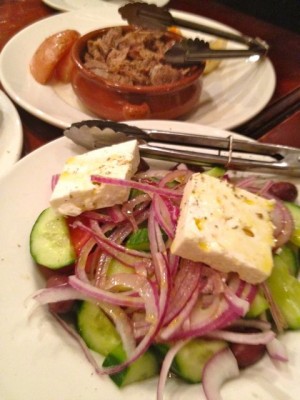 The Greek Salad is superb! It is lovely and fresh with lots of chunky tomato, cucumber, red onions and olives. The feta is creamy and with a light olive Oil and vinegar dressing – the best salad ever! I want to eat this every day!!
The 'Potatoes Lemonates Oven roasted tangy lemon & oregano potatoes' are soft and delicious and work well with our lovely baked lamb….. but I think we might have over ordered!!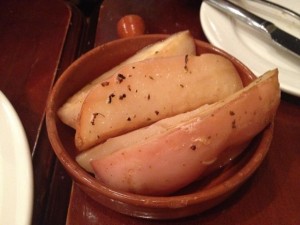 This place is pumping on a Saturday night and there is not a spare seat in the house and the reason why? Amazing food! I can't wait to come back for some real Greek fun!