If you read the blog below you will see that I loved Koy when we ate there last year…. but what a difference a year makes. I don't like to be negative in my blogging and if somewhere isn't great I try to be diplomatic and take the approach that everyone can have a bad day but our lunch at Koy today was so disappointing in comparison to the food we had back in May.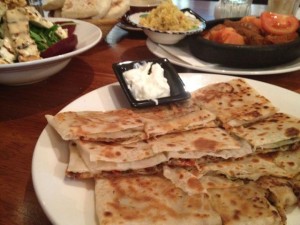 The Gozleme with Turkish spiced minced meat at $10 was nice, I wouldn't want to eat a whole one to myself but it was nice to share and had a good level of filling and spice.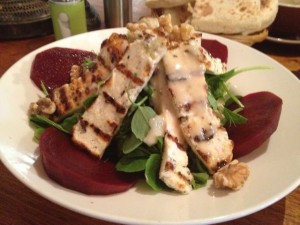 The 'Grilled haloumi w roasted beetroot & walnuts' at $19 was really disappointing, the halloumi was horrible! I love halloumi and this was hard, salty and dried out – no happy rubbery sqeeky cheese! First time ever I haven't had to fight for the last piece of cheese with my family!!
The 'Izmir Köfte – Slow cooked meatballs w potato & sweet peppers in a tomato & herb stew served w rice & yogurt' was a little pricey at $23 considering there were just two meatballs, 3 bits of potato and some tomato! To quote my fellow diner "They are really stretching the definition of meatballs plural with this dish!"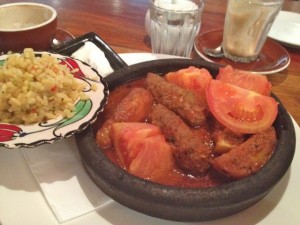 The 'Mercimek Köftesi – Red lentil rissoles w parsley, spring onion, cumin & paprika' $10 was not my sort of dish, it had nice spice but it was really, really cold and not enjoyable (they might always be served this way and if so, just not my sort of thing!)
Lunch today made me pretty sad, compared to the day we had below this just didn't seem the same place 🙁
…………………………………………………………………….
Previously visited 28th May 2011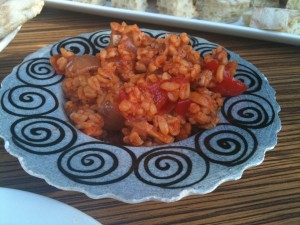 It was a gorgeous afternoon when we visited Koy at South Melbourne Market, the new Turkish restaurant looks great and has made great use of the spot they have.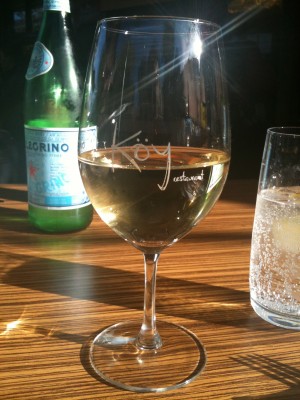 We started with a beautiful chilled Lebanese Viognier that suited the sunshine seats we had managed to get outside to watch the world go by.
We chose a few dishes to share including one of the best salads I have had in a while, generous, great ingredients, perfectly dressed and topped with pieces of grilled halloumi that was to die for!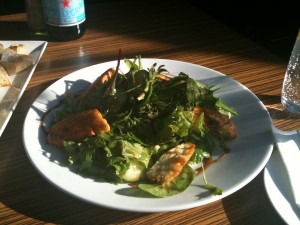 The fava bean dip was amazing and well presented with a plentiful supply of little chunks of turkish bread.
The slow cooked lamb meatballs were AMAZING! Served with potatoes, tomatoes, yoghurt, bread and the most flavour packed mini dish of rice flavoured with tomatoes and mushrooms. The meatballs were so yummy, pulled together with their accompaniments we could have eaten another 3 each!!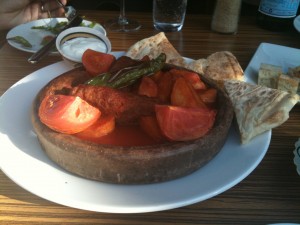 The service was great, relaxed, informative and funny! They handled the most awkward fellow diners at the table next to us with great skill, I would have had a lot less patience!!
All in all it was a perfect lunch and I can't wait to go back for more!