Lulo is a fabulous little piece of sunshine in Hawthorn, offering fantastic wines and food with Spanish Flare!
On a quiet lunchtime I get to spend a little time chatting with my new friend from Brisbane, recently relocated and only with Lulo for 6 weeks she is a legend! Her understanding of the menu and passion for the food is so refreshing and a reminder of how good 'good' service can really be!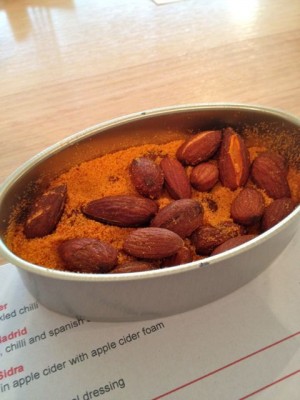 A little dish of smokey almonds arrive with my glass of fabulous Pinot and they are fantastic!! Salty, smokey YUM!
Paprika Bread and olives quickly follow and we chat through the specials and the menu, the ability to remember the complex elements of some of these dishes is really impressive!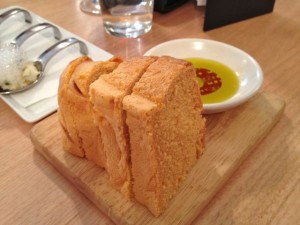 We are more than happy with the suggestion of the chef to select a few dishes to send out as we just cannot choose from all of the wonderful dishes on the menu!!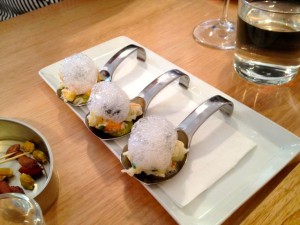 So first up – how good does that look!?! 'Sous vide' spanner crab meat with avocado, pickled garlic, avruga caviar and lemon air!! WOW – recommended we go all in one mouthful and it is fantastic! The flavours work fantastically and we are so happy!!!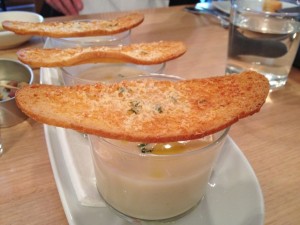 The Potato and truffle soup with a little cheesey crisp is a gorgeous, warming, wholesome dish – I think I exclaimed something like 'I really love soup' as we tucked in!! IT was so good!!
For the bigger dishes we go with the highly recommended Roasted Brussell Sprouts with crispy Quinoa, broadbeans, white balsamic & manchego – touted as having the ability to turn any sprout hater they are not wrong!! They are cooked so beautifully! A perfect example of seasonal produce and great flavours coming together!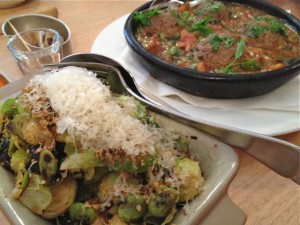 The Wagyu Beef Albadongas are such a good dish, good size, succulent and rosy meatballs with peas, spanish ham and onions – just great!!
The final dish is a delicate, complex dish of 'veggies' paper thin red onion, red pepper jelly, eggplant puree…. wow owowwowowoow!!!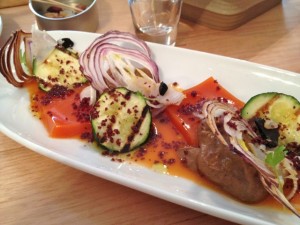 I don't think these guys can do any wrong here! The food is just amazing, there was a tuna dish that my fellow diner asked about having enjoyed on a previous trip and the explanation for not having this is due to the exact piece of fish that the chef uses that hasn't been available recently to the required quality! That is how these guys are acing this food – high quality, in season, perfect flavours!
We love you Lulo!!
………………………………………………………
Previously visited 11th May 2012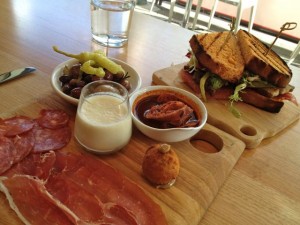 Gorgeous, gorgeous, gorgeous!
Staff – brilliant
Service – excellent
Wine list – amazing
Food – outstanding
The loveliest lunch ever! A wonderful glass of Vincente Gandia a Valencian Chardonnay, our waiters fave! We played my favourite game of 'choose one' Red or white? Sweet or dry? Frizzante or not? It was a great recommendation!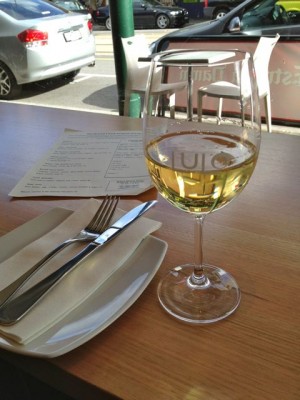 The new menu 'The Brunch Lunch Projects of Lulo' is a selection of traditional Spanish fare, meatballs, tortilla and corn bread. It is hard to choose so we go with our gorgeous waiters recommendation again!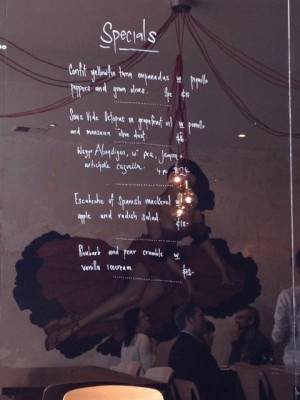 Bread is an important and varied experience across restaurants but when you get it right I love you just a little bit more! Mount Zero olive oil, rock salt and warmed tomato bread (I think!) just gorgeous!!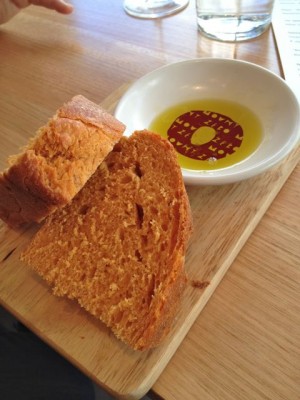 The 'Bocadillo' is the BEST sandwich in the world ever!!! Lets start with the fact it has roasted pork belly in it!!! From there we have smoked yoghurt, pickled chillies, mojo and jamon…. seriously soooo good!!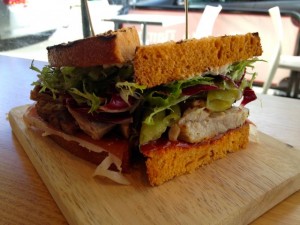 The Spanish 'Pantry board' I a wonderful board packed with Spanish delights! A mini truffle soup is so incredibly creamy and rich and works beautifully with the smokey chorizo. The little croqueta ball is super crunchy with a warm, luscious centre and then a selection of amazing cured meats, shaved wafer thin and taste just heavenly!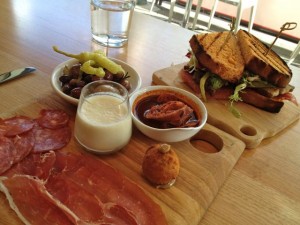 I wish we could have stayed for sherry and churros but not today! We will just have to come back again very soon!