On a recent jaunt up to Sydney we had the genius idea to pop in and see Jamie! After all this time, books, DVD's, magazines and tv shows I realise I have never eaten at an Oliver Establishment!
Perfectly located on Pitt Street it looks relatively small until you step inside and a huge conversion has turned this into a two level bustling, super cool eatery! Even at 12.15pm on a Wednesday there is a 20 minute wait but we are happy to grab a seat at the bar peruse the wine list and menu!
The wine list is a really enjoyable read!! Celebrating the varietals of the Italian Regions with Australian wineries, a tongue tying story of Montepulciano and Vermentino! But the list does a really good job of explaining each wine and why you will like it!
We go for the Di Majo Normante Rami from Molise in Italy
Beautiful Molise example of the falanghina grape – hard to pronounce, but easy to drink. Soft, lemony flavours make it perfect for Chardonnay lovers
So the menu….
A stunning menu filled with the most ridiculous amount of food – why are you making it so hard to choose, so cruel!! With only two if us we are going to have to use some clever tactics to through this!!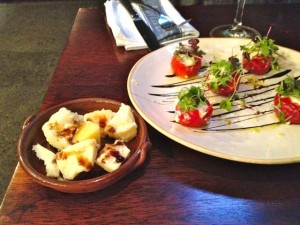 You can order from the nibbles and antipasti whilst at the bar so we are already happily choosing the Sweet mini chilli peppers and 'parmesan chunks' when our buzzer happily announces are table is ready way before the anticipated 20 minute wait! Brilliant!
Nibbles arrive super fast once we are seated and I love the peppers stuffed with whipped ricotta, mint and lemon and with a spicy little kick at the end – amazing!!!
The parmesan chunks are such a clever dish! How did I never think of this before! 'Nuggets of beautiful Italian cheese drizzled with aged balsamic' perfect with our wine we are in heaven and already planning when we can do this one at home!!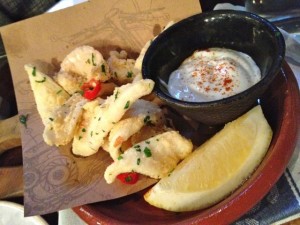 The Crispy Squid is the best squid ever! 'Fried squid served with really garlicky mayo & lemon' It is soooooooo good! Little touches of chilli and such creamy mayo…. WOWOOWOWOWOOW!!!!!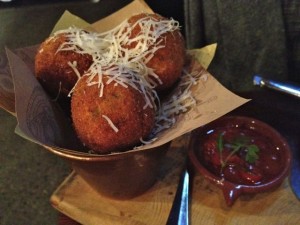 The Smoky Scamorza Arancini are so amazing! The 'Crispy rice balls stuffed with smoked mozzarella & porcini' are incredibly delish!! The Apple and Gorgonzola salad with honey-roasted walnuts and peppery watercress is so good! When you get one of the walnuts they are so sweet and crunchy and with the tang of the gorgonzola we are super happy!!
The buttered and sliced Brussels are another example of how undersold the good old sprout is and how they can be combined with simple ingredients (and cooked well!) to deliver a really enjoyable and heathy dish (forget the butter!!).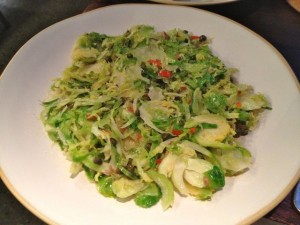 We will never be able to make it to the meaty mains but I spot a fantastic towering burger heading out from the kitchen that looks great!
Instead we opt for the entree sized pastas and they rock!!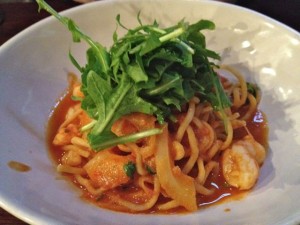 The Prawn Linguini is perfectly described 'Juicy pan-fried garlicky local prawns served with tomatoes, chilli, rocket & fennel' incredible flavours – simple and effective! We love!!
But the best of the best…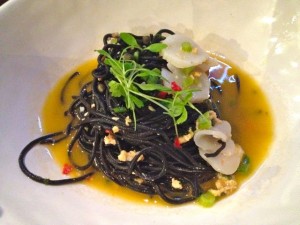 Black Angel Spaghetti – Squid ink pasta, scallops, garlic, chilli, anchovies, wine & capers INCREDIBLE!!!
The staff, who appear to all be English are just lovely, the place is big and busy but they just seem to be floating through delivering food and smiles and everyone seems to be very happy including the customers!