I'm not much a religious person but God Bless Gills Diner and all who eat there!!!
It's been a while but something drew me back on a cold miserable Wednesday night and it was totally worth the effort!!
Nestled in the CBD is a little bakery haven – Gill's Diner, delicious lunches by day and wonderful dinners by night. The wine bar at the front is sporting a little bar menu and a very good local wine list which gives me great pleasure! Big fan of supporting our local wine and food industry!
A wonderful bottle of Fighting Gully Road from Beechworth is a far too nice Sangiovese! Too nice in that we have happily drank half a bottle before our table is ready! (and it didn't take that long!!)
Once happily settled amongst the wooden tables and candles the chalk board menu is calling to us… decisions decisions!!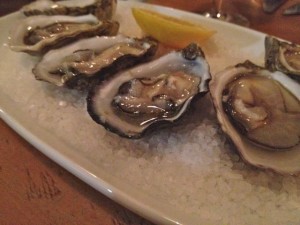 Tassie oysters to start with Barilla Bay's finest! Soooo good! Full, fresh, plump, melt in your mouth – AMAZING!!!
The house cured gravalax with herb salad, capers, cornichons and a creamy dill creme fraiche is DIVINE!!!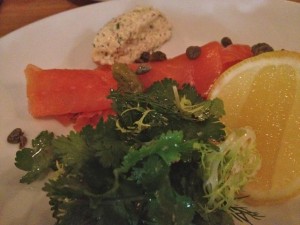 Seperately there are all very nice but together…. PARTY time!! IT is incredibly delicious and the house cured salmon is always hit and miss with me but this was a bullseye!!
Mains are wholesome winter warmers with pasta, risotto and much more! The pulled pork with black pudding, brawn croquettes, herbs and a little crunchy treat on top!!
WOWOWOWOWOWOWOWOOWWWWW!!!! Amazing tender pork, black pudding was great and the little brawn croquettes are divine!! (Brawn is the cheek – I asked!!) Amazing dish, I want to go all Masterchef and start talking about balance and texture.. but I won't!!
That wasn't even my dish! I had risotto!!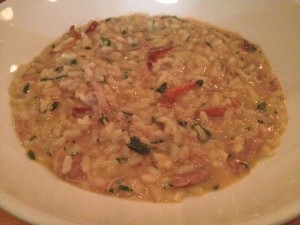 Duck risotto, lots of shredded duck, super rich (in a nice way) mushrooms and it is a generous serve is exceptional risotto….. so happy!!!
I had totally been eyeing up the home made churros and cheese board but way tooooo full! Next time!!
The staff are particularly lovely here, very good a judging how much or little you need, attentive without bugging you and the 'piece de resitance' the question 'Do you need any bread to take home?' Ummm yes I do you psychic little minx!! One large sour dough loaf later and we skip out into the cold feeling very loved!!