What an invite! Come and see Bishop of Ostia for lunch with Matt Wilkinson and the Fickle Mistress!
I can let the menu speak for itself!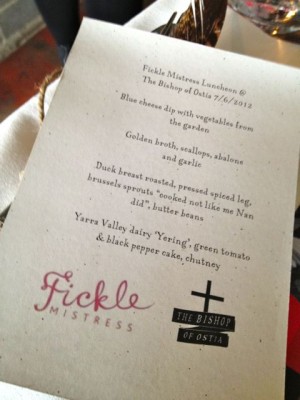 And yes! it was as good as it sounds!! Greg the proud winemaker seemed a little nervous of the room full of hungry women enjoying a glass of his 'Fickle Mistress'! A delightful pinot noir described as a 'minx' and 'devil in disguise'.
It was a pleasure to meet Greg and his lovely lady and also enjoy a especially matched lunch by Matt Wilkinson, owner of Bishop and Pope Joan next door.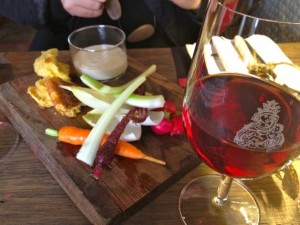 Blue Cheese dip is creamy and light and reminds me of how much I was missing out when I refused to eat blue cheese!! Fool!! Veggies from the garden hark back to Mr Wilkinson's recent book – a celebration of seasonal veg and soon to appear in the Cookbook Challenge 2012!! Gorgeous little fresh radish and purple carrots – love!!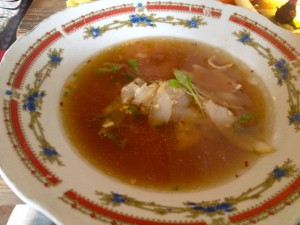 Golden broth, abolone, scallops and garlic – so pretty and tastes pretty amazing too!! Broth is served from a assortment of teapots and it wafts up to give a comforting Asian spice…. WOW!!!
Chef and Owner Matt gives us a very relaxed walk through the wine and food and how the flavours have been matched to work with the lady of the lunch and it really does! Incredibly smooth and enjoyable Fickle Mistress is definitely a new friend mine!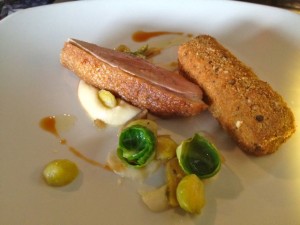 STOP – Ducky time!!! Delicate, luscious roasted duck breast, spiced, pressed leg in a croquette with little jewels of sprouts and a side of white beans.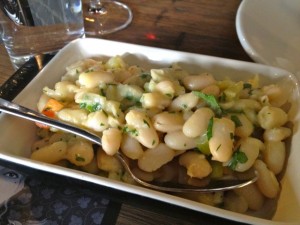 One word – Phenomenal!! We are really spoiled today!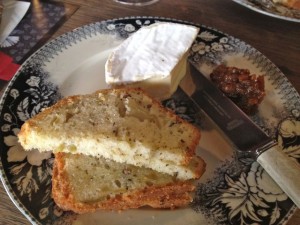 We finish with a fabulous Yarra Valley Dairy Yering cheese with green tomato and black pepper cake and yummy chutney! Sadly we have to head off into the afternoon though I bet the lucky ladies who got to stay and chat with Greg and the Mistress for a bit longer had a great time!!