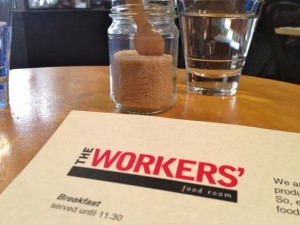 The CBD workers of Melbourne are incredibly spoilt for choice when picking up their morning coffee, breakie lunch and afterwork treats. A new addition is The Workers Food Room and it is a gorgeous spot. An amazing building with a big brick kitchen at the heart and ample seating for such a small nook in the busy city!
There is a real fire burning away and it is cosy and welcoming on a cold Autumn morning, there is a great vibe and plenty of smiles from the staff.
Coffee – it is my only addiction! I don't feel like I have really woken on a morning until I have had my shot of bean!!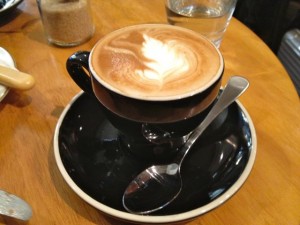 It is good!!! So good!!
There is a great breakie menu packed with plenty of choice – Granola, toast, eggs and more! There are also a selection of freshly baked treats on the counter and I can't go past the Pear and Hazelnut Muffin and a Egg and Ham Muffin.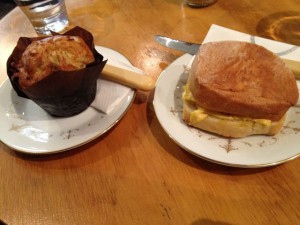 The muffin is wonderfully nutty and the hazelnut flavours are fantastic and then the savoury muffin is delish! Not greasy or full on just a light morsel of good quality ham, great eggs and cheese! YUM!!!
I could have stayed for another coffee and maybe even hang around for lunch to pick up some of the fantastic dishes on the chalkboard and the menu – Olives, Grilled "Will Stud" Aphrodite haloumi, Spanish anchovies with shaved fennel, Pickled and grilled octopus, feta, chilli & olives, Prawn Iskendar, Antipasto plate with Robert Marchetti Salumi…. and thats just the small plates!!
The Wood Oven then serves up gorgeous dishes like Workers? dips with Turkish bread, pides, Levantine, Moroccan spiced Kingfish Tagine, a Tortilla with potato spinach Greek feta and The Workers' Rib Eye Steak sandwich!!
Amazing – lets come back for lunch real soon!!