Open for breakfast and lunch through the week for those lucky Melbourne CBD workers, Le Traiteur is a gorgeous spot on the corner of Lonsdale and Healey's Lane, specialising in French food and displaying an amazing array of the most gorgeous filled baguettes I have ever seen!!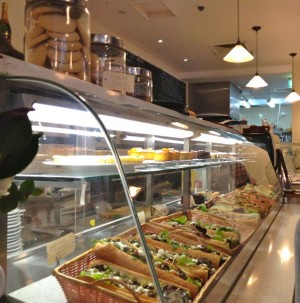 There is Roast duck with baked pear and caramalised onion WOW! Smoked Salmon with egg salad and watercress, corned beef with dijon, cheddar and caper berries and Pork Belly with Gruyere and dill pickle! Seriously!!!!
As per the website, The Autumn menu is constantly changing and will generally include 2 warming soups, 2 classic braised dishes, a quiche du jour and a pie due jour!
All I can say is "You had me at Rabbit Pie"!!!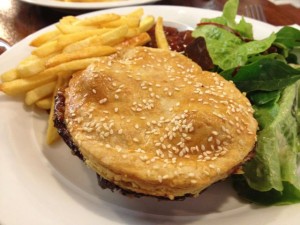 And Hell Yes, lets have it with Frites!! When I crack open the crispy lovely pastry the waft of wine and rabbit and mushrooms is the nicest moment!! It is fabulous!! Slow braised rabbit – lots of it! Little button mushrooms and gorgeous rabbit!
Hubby's quiche du jour is also fab! A good wedge of roasted veg and goats cheese quiche, light pastry and though deep it isn't too much egg!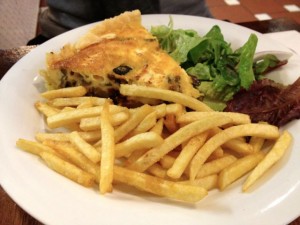 It is a miserable day and the warm lunch is great, I think I said something a bit strange like "if I was ill at home and someone bought me something from Le Traiteur I would instantly feel better!!"
There is also a good warming coffee served and all in all it is a fantastic lunch… it would be hard not to come here all the time if I was nearby!!