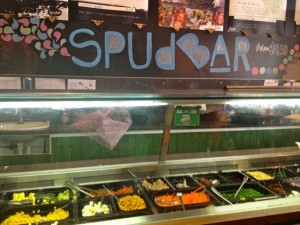 I love a good jacket potato, a simple wholesome spud that you can 'pimp' with anything you imagine and Spud Bar are trying to give you a broad range of great options!
Firstly you get to pick your base – salad, regular spud or sweet potato, good to have those options and next time I would love to try the sweet potato or the salad but today I am totally craving good old traditional spud!
Then it's topping time!
You can pick 6 options from the fresh topping bar for a set price or you can go with one of the listed combos. There are the Classics – Tuna, Bolognese, Crispy Bacon and Cheese and 'The Festival' – melted butter, cheese, sour cream, bacon and chives YUM!!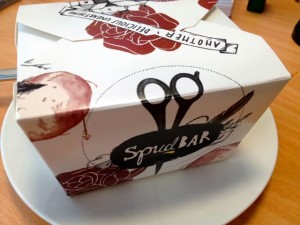 You can go for Bold Spuds with protein packed, wholesome toppings – Chilli, Beef and Bacon Bolognese, Moroccan Chicken, Roast Cook and Avocado, Chicken and Chorizo and The Slow Cooked Lamb!
I couldn't go past the Slow Cooked Lamb….. OMG!! It's cold and a hot roasted jacket potato with braised pulled lamb shoulder with mixed grains, baby spinach, carrot and tzatziki…..we open our little takeaway box and it looks super fresh and wonderful!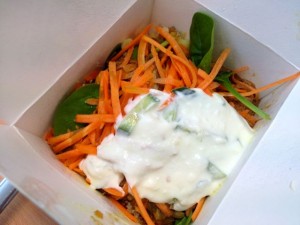 And then delve just underneath to the amazing lamb, just falling apart and super succulent…
Amazing! Loved it, everything is very fresh and there is a reason there is a queue every time we go! Next time I want to try some hearty bolognese!! YUM!!!