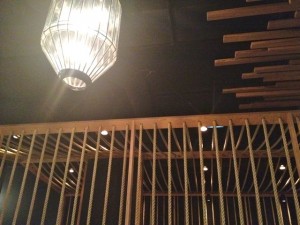 From one of their biggest fans I learn that the team that brought 'The South' Parkers and Main Street have now opened the hottest new joint in Mentone and in the first few weeks it has been packed full of happy punters enjoying fantastic food, morning, noon and night!
A personal endeavour for Brett, the owner, blood, sweat and tears (of joy!) have obviously gone into this new development with paperwork signed a while ago and then with all building developments the waiting game of when you can actually get in and start making the place your own! And they have, it has many fantastic features, impressive rope work, great inside / outside seating and small touches that I am sure have stories behind them with some copper pipework art and some mosaic tilings framing the kitchen!
So tick, tick, tick for looking great, atmosphere great and seating comfortable! No tables on top of each other here! There are plenty of areas to relax and the staff are all lovely!
Good wine list with a good selection by the glass and nice bottles too, everything is laid out on two sides of a menu and I am drawn in to the breakfast choices (even though we are there for dinner!) there are some amazing sounding dishes and everything has a little personality of its own – including the 'Augustus Gloop' a breakfast for the bigger appetite.
But we are here for dinner and there is a stack of sharing dishes small and some larger. I love the fact that we can pick lots of different things to share and get a real taste of what is on offer. The larger sharing plates do sound pretty amazing though! The Asian Seafood Basket for two with snapper, oysters, pippis and calamari sounds good! There is a paella and a whole roast chicken!! The menu has been set up brilliantly so you can come back several weeks in a row and have a very different food experience each time! There are 'Something for Yourself' dishes of duck marylands, surf and turf, ravioli and lamb rump.
So we run the gauntlet of sharing plates and pick 8 dishes to tuck into!
Dish 1 – Mac and Cheese with a seemingly healthy herb breadcrumb crust, pasta shells with a three cheese molton sauce and big chunks of gorgeous crispy pancetta!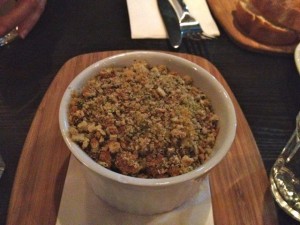 Dish 2 – Cauliflower and Gruyere Fritters with salsa verde – light, crunchy GREAT!!
Dish 3 – Pork and Veal Meatballs with a yummy smoked tomato sauce and fresh white bread – delish!!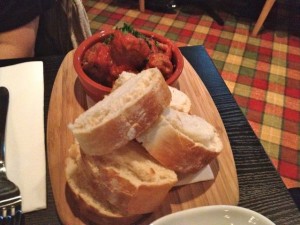 Dish 4 – Salt and Pepper Calamari, so fresh and lovely, not greasy, lightly seasoned and a rich lemon moyo to dip in YUMMM!!
Dish 5 – Crispy Chips with very light paprika salt – gooood!
Dish 6 – Pacific Oysters with ponzu dressing and crunchy seaweed salad – fresh, plump, amazing and love the crunchy seaweed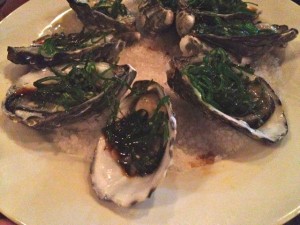 Dish 7 is my absolute favourite – Celeriac and Apple Remoulade is bloody brilliant!! So flavoursome, lightly creamy and just fantastic LOVE LOVE LOVE!!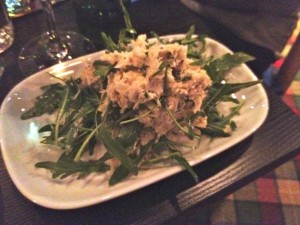 Dish 8 – Baby Spinach Salad with roasted pumpkin and red peppers with tangy fetta – just gorgeous!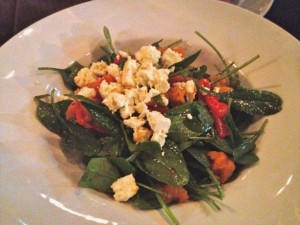 What an amazing selection of dishes, we barely had enough room on the table as the kitchen managed to get every dish out in one go!!!
Desserts sounds to good to miss out on so we get the Lemon Curd Tart with 4 spoons! It is fab, a really light pastry shell with smooth, gorgeous lemon filling – perfection!!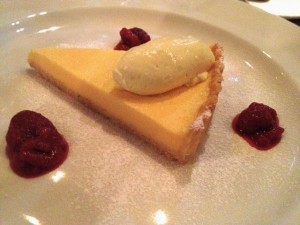 Just a fabulous dinner – see you again very soon!