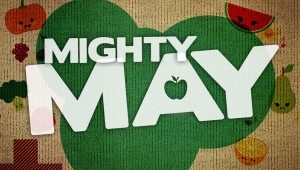 The Challenge is;
For the month of May anything I want to cook or cook with must come from as close to the source as possible – NO Supermarkets for a month!
It's not that I think supermarkets are bad but I have spent a lot of time in the last 12 months cooking great recipes and learning to appreciate food more and now it feels right to also appreciate more where that food comes from and the effort involved to bring such amazing produce to our plates.
From chefs like Annie Smithers and Matthew Evans who have talked avidly about knowing where your food comes from and supporting local producers to people like my friends Mary, Chris and my own brother who are actively growing their own fruit and vegetables everywhere they can plant a seedling or two to grow their own!
A seasonal led diet with wonderful fresh and local produce sounds like a pretty nice way to eat… who knows it may not be as hard as we think!
So lots of Farmers Markets, lots of trips to local grocers, fishmongers and butchers and farm gates…. wish me luck!!
31st May 2012

Made it!! Not a single super market trip for food in a whole month! We have discovered a whole new bounty of gorgeous fresh produce on our doorstep and we are not going back! Though I am looking forward to stocking up on a few essentials but food shopping will never be the same again!! AND the best way to finish the challenge? 1st of June and we make our annual trip to the Melbourne Good Food and Wine show! Two trolleys later and we look like we have stocked up on enough food to make it through the winter!!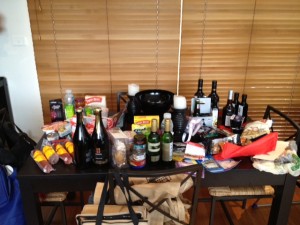 Mighty May will continue with Buy Local 2012!!
26th May 2012
Day 26 – supermarket trips 0!
Husband did a Victoria Mkt trip and stocked up on Rabbit, Duck and Chicken for the week and a stash of veggies – so lucky we have the markets so close in Melbourne! Cooked a great lamb shank dish and a terrible beef floss dish! Read more here!
Also rustled up a damn good strudel using the rhubarb, apple and plum compote we made this week! Yum!!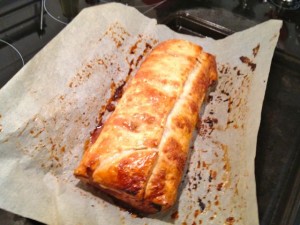 Out an about a bit this week so weekend will be more cooking and we are all stocked up and ready to go!
I also visited Gum Tree Good Food in Middle Park for some yummy treats!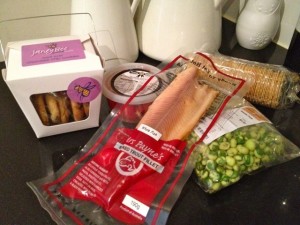 Gum Tree Food Food – read blog here!
21st May 2012
Day 21 – supermarket trips 0!
Went off for a quick trip to Victoria Street Richmond today! Love it!! Got some great ingredients for this weeks CookBook Challenge book – cooking from Poh's Kitchen!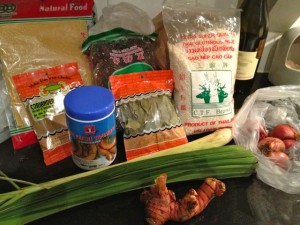 20th May 2012
Day 20 – supermarket trips 0!
Ok the only thing I cannot get from the markets is……… Toilet Roll! South Melbourne Market is pretty amazing! We go all the time but today I really started to count what you can get there and we are incredibly lucky! There are stalls packet with wonderful fresh produce, fruits, veg, flowers in abundance! But also fresh meats, fish, deli stores and nuts! But there are also fake flowers, asian groceries, canvasses, beauty products, clothes, eggs, plants, books, paint, pants and more! I could pretty much find everything I needed except….. toilet roll!!
So hubby did a quick trip to Coles for Ginger beer, toilet roll and UHT Soy Milk! Not bad going for the last 20 days we haven't been at all! It has been quite nice not doing the supermarket trips, I swear I was THE worst impulse buyer!! I still am but now I buy fresh honey and beetroots!!!
Read more on South Melbourne Market on the recent blog
19th May 2012
Day 19 – supermarket trips 0!
Lovely stroll over to the GasWorks Farmers Market in Albert Park, it seems to have grown since the last time we popped by and there is a fantastic selection of locally produced 'with love' food! The fresh produce is just amazing! Wonderful gnarly fruits and veg – as they should be! Huge, gorgeous beetroots, proud sticks of rhubarb, paper bags of potatoes, heaps of fresh apples, pumpkins galore! I had so much fun filling the trolly!
Small producers of little tarts – just wonderful! organic custard tarts, fig, orange and chocolate and mushroom and thyme! An extravagant afternoon snacking selection!
Cheeses from Boosey Creek – a vintage cheddar and a lovely gouda! The most wonderful bacon from Gypsy Pig! A 1kg Rye and Sunflower Loaf from Alison's Bread. Though heavy we are promised it is actually incredily light, moist and keeps for ages! Yellow Box Honey from Dawsons honey and I could have kept going – it was all so amazing!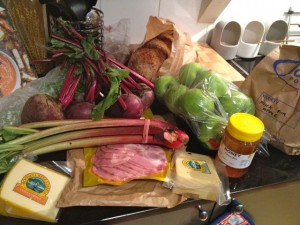 Read more Gasworks Farmers Market Blog
16th May 2012
Day 16 – supermarket trips 0!
I may never go to the supermarket again! Cat litter and cat food available at South Melbourne Market too! Got some gorgeous flowers, super fresh sourdough, jar of maraschino cherries!!!??? Didn't bother to sign up to my new Flybuys card – you only get the My 5 discounts for a few months and when you spend over $50 – that may never happen again now!!
I wonder how I would feel if there were no supermarkets and I didn't have that convenience one day…???
13th May 2012
Day 13 – supermarket trips 0!
Nipped out between the rain to visit South Melbourne Market and had a fantastic time! A trolley full of amazing produce! An eclectic collection;
Freshly squeezed orange juice, plums, tomatoes, oranges, bananas, carrots, soy crisps, baking paper, passata, parmesan, yogurt raisons, spicy peanuts, walnuts, leeks, sweet potatoes, fresh baguette… just fabulous!!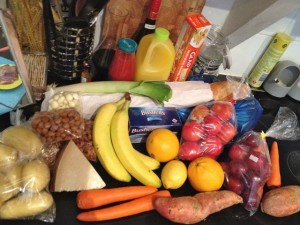 Aptus fish had trays of trevally and monkfish both for $25 so fish pie tonight!!!
12th May 2012
Day 12 – supermarket trips 0!
Lazy Saturday and we head off to explore Bay Street Port Melbourne and after some wonderful Japanese at Komeyui we step across the road to Chapel Bakery but there isn't much left by 1pm so we carry on to Casa de Vinos. A gorgeous little spot packed full of cheese, wine and all things yummy! I emerge a few minutes later with truffle oil, white chocolate and crackers for tonight cheese board – if I didn't have a stash of cheese already this would have been the perfect place to get into the cheese room!
Little sad that PassionFoods Organics is now a massive cafe, no treats to be bought there but Noisette has the most amazing range of all things baked and yummy! Danishm croissants, cakes, breads – so much to choose from, good job I have a full tum! Rolls for dinner tonight and a great looking walnut and fig baguette and get out of there before I fill our bag with anything stuffed with a custard or cream!!
Didn't fall for Thomas Dux, I know you are a supermarket in delish treat clothing!!
10th May 2012
Day 10 – supermarket trips 0! Smiles – LOTS!!!
So usually when I go to the supermarket its a trip in the car, dark car park, shop and home in the car but today I wondered in the sunshine up to the local shops and had a lovely time!
Also it occured to me that I might be spending more than I would usually but not wasting as much and buying better quality food! But I don't think I am spending a lot more!
Examples;
I bought boxes of tissues from local shop – $0.90 each – I know that they are at least the same if not a touch cheaper than own supermarket brand!
I got a twin pack of toothpaste for $3.50 from my local chemist – pretty sure that was a total bargain!
But……. then I spent $15 on a piece of D'Affinois cheese but hey – it is the BEST cheese ever!!
My local grocers had gorgeous fresh coriander from Mornington for just $1.99 a bunch, the biggest pomegranite for just $2 and blueberries and raspberries for $2.99 a punnet (hurrah for berries!!)
AND then I went to the Tassal Salmon Shop – what a foodie heaven!! I got 4 salmon patties for $10 and they are big boys! I also got some more cheese (Cheese Fiend alert!!) and some beetroot jam for $7!
All in all I spent $70 and there is enough there for tonights dinner, some staples (not literally!) a cheese board to go with a movie this weekend and some extras for another meal!
I am sure I have a fantastic lamb and pomegranite salad recipe somewhere….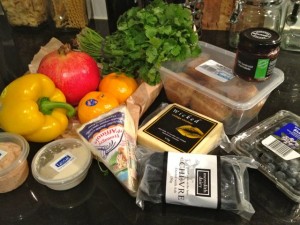 9th May 2012
Day Nine- supermarket trips 0!
Really wanted chippes or chocolate – just shows what gets added to my basket in a supermarket! Thank god a kind saint gave me some chocolate covered goji berries!! (and I have some B&J's Phish Food in the freezer!!) Third day of mega lasagne and no need to go to the supermarkets! But have booked in a trip to Yarra Valley and looking forward to Gasworks Farmers Market next weekend!!
7th May 2012
Day seven – supermarket trips 0!
Well kind of… I didn't go to the Supermarket but I did ask a friend to get me a roll to go with my lovely fresh pumpkin soup with out thinking and then we have a hilarious moment where she was about to hand it too me and we had this realisation… oh well I didn't go into the supermarket!!
Amazing fresh bounty from the Valley today, Dozen eggs, golden beetroot, salad onions, rainbow char, rosemary, sage, thyme, bay, bok choy…. WOW!!! I can't wait to go and see Seville Bogan's gardens in a few weeks!! We are going to visit all the amazing places offering produce – exciting!!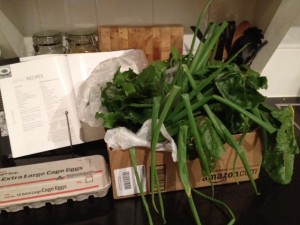 Made an amazing lasagne with chicken sausages from the market, wonderful eggplant, carrots, celery, chilli and a kick ass bechamel with my own twist! I made a classic bechamel base and then because I like lots of runny cheesey sauce I added buttermilk, grated cheeses and mascarpone!! It was sooooooo good!!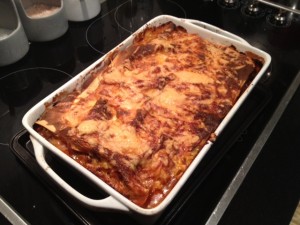 6th May 2012
Day six – supermarket trips 0!
Headed off to South Melbourne Market and had a lovely time wondering around – a little aimlessly!! Got some corn chips from the organic store, veggies galore including beautiful leeks and a huge lettuce! A take away coffee and carton of Ben and Jerry's Phish Food for a little treat later! First time we have thought we might have to go to Coles – Teabags! But we get some Midura loose leaf and get the teapot out… it is really good!! Maybe we will change a few habits through this challenge! Loose leaf tea in a teapot is reallllly good tea!!
5th May 2012
Day five – supermarket trips 0!
Lazy Saturday with fantastic buttermilk pancakes with fresh berries! Lunch was pesto and cheese topped sour dough with Jindi vintage cheese and Edam all from from Queen Vic Market yummmmm!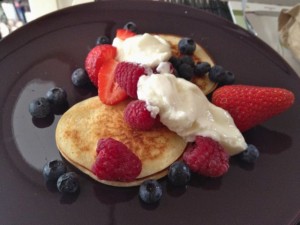 May the 4th be with you!! 2012
Day four – supermarket trips 0!
Fantastic trip to a Doncaster Greek shop with gorgeous fresh yoghurt, Pittas Halloumi, dolmades and giant baked beans!! Also jaffa cakes and lasagna sheets!!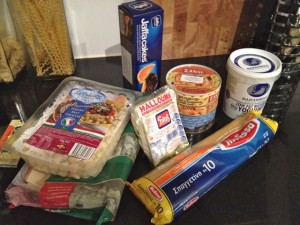 Such a cute place!!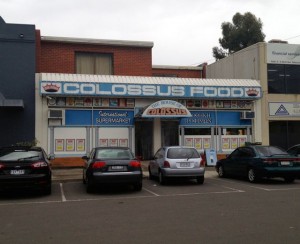 And our first donation from the gardens of Seville! We call him Dave… probably shouldn't get too attached!!
3rd May 2012
Day three – supermarket trips 0!
Not going too bad at this, sent hubby off to Queen Vic markets and he came back with a smile and a bounty of gorgeous fresh gifts!!
Gorgeous strawberries, blueberries and raspberries – I was quite taken aback at my pure delight at the raspberries!!
A wonderful fresh sour dough and a little story of how he didn't have the $0.10 in change so he was told not to worry about it and give it to them next time! Don't get that at a supermarket!
And 3 wonderful, super stinky cheeses for $10 FABO!!
2nd May 2012
Day two – supermarket trips 0!
Ok I missed lunch and dinner is pizza – it's cold and raining and I'm tired!
Must pop to our local grocers for lots of lovely fruit tomorrow!
1st May 2012
Day one – simple! Supermarket visits 0
Dinner was a slow cooked sausage ragu with sausage and veggies from South Melbourne Market and passata from Med. Wholesalers!
Hubby went to Vic Markets and bought a whole rabbit to cook up and a gorgeous fresh Turkish bread
Mission accomplished!