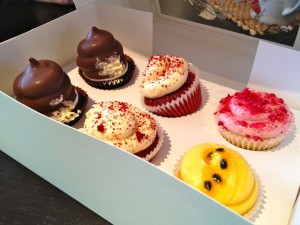 A delivery of cup cakes – of course you can come in!!! 6 beautiful cup cakes, a coffee and a good meeting – excellent work!!
Based in Malvern, Sweet Crumble is the result of a families love of food and sharing, to quote Timna on the website;
For as long as I can remember food has been an integral part of my family's lives. We cook to show love, we cook to say sorry, we cook to share celebrations.
Sweet Crumble Patisserie is specialising in bite sized desserts with Cupcakes, Parisian Macarons, Petite pops (cake pops), marshmallows, meringues, homemade caramels and candies!! WOW!!
We have a gorgeous selection with Passion fruit swirl, Red Velvet, Raspberry White Chocolate Swirl and the big Chocolate dipped cup cake!!
I can't go past the Red Velvet – Moist red velvet cake filled and topped with a creamy vanilla bean frosting (dairy free) – perfect!!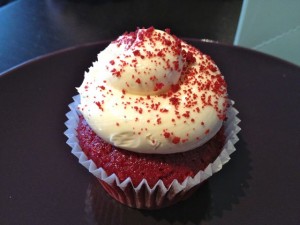 How pretty is that? AND it takes that good too!!
Will be working through the rest later today, Wish me luck!!