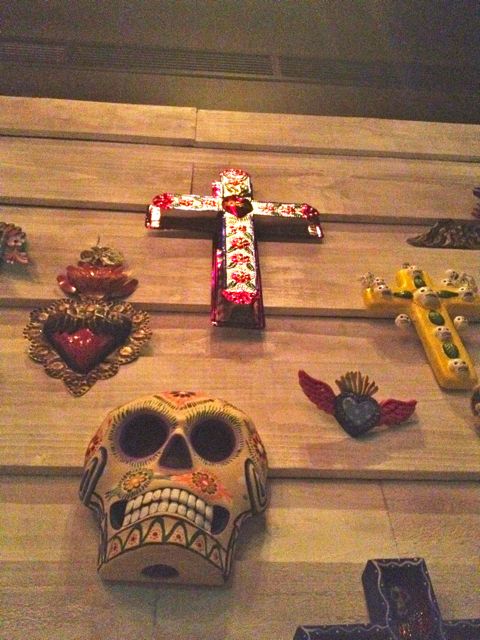 The Mexican revolution continues! Meyers Place in Melbourne CBD is becoming super cool! With good old Lily Blacks still in residence, recently opened San Telmo's Argentinian delight and now a tiny modern cantina!
A modern Mexican restaurant with a very authentic menu! As the website says;
For Mexican entrepreneur Ricardo Amare and his business partner, Linda Temani, Señoritas is not just a venue to come and eat Mexican food, it is the home of a truly sensorial Mexican experience. Try Mexican street food from different regions such as Oaxaca or Yucatan. Discover Frida Kahlo and Diego Rivera's favourite dishes.

Señoritas promises to bring every guest the experience of a modern Mexico with many culinary traditions as well as music, folklore, and the best in food culture. To demonstrate how proud we are of our most important value, authenticity, we present you the inspriations and the people that will embrace and breathe these values into Señoritas.
It is 'El Día de los Muerto' or Day of the Dead – the inspiration behind the design for the restaurant, so there is a complimentary tequila as we arrive! Good to get the fiesta started!! We are quickly on with a fantastic Margarita and chips and salsa!
There are three salsas to sample;
Salsa verde de jalapeno – Estado de Mexico with tomatillo, jalapeno, onion, garlic and coriander
Salsa de Verde de Chile habanero – Yucatan with green tomato, onion, garlic, habanero chili & coriander
Salsa roja de Chilli serrano – Estado de Mexico with Red tomato, onion, garlic, serrano, coriander
Warning: The lighting is intimate so the photos are not good! But at least I wasn't flashing and blinding over their tacos!!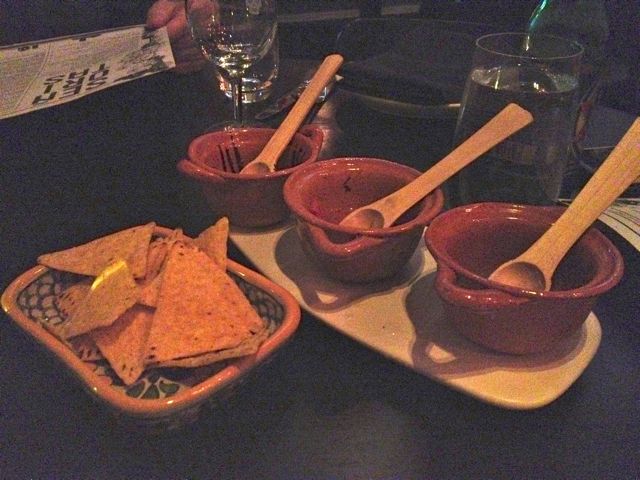 They are yum but after some recent over eating in this area and not being able to enjoy the main event I show some restraint!!
And a good plan because the 'Frida and Diego Entradas' start arriving and they are soooooooo good! The Esquites (Estado de Mexican) With corn sautéed with onion and 'epazote' (a Mexican spice) served with mayo, queso fresco, chilli piquin and lime! Served in the corn husk it is delish!!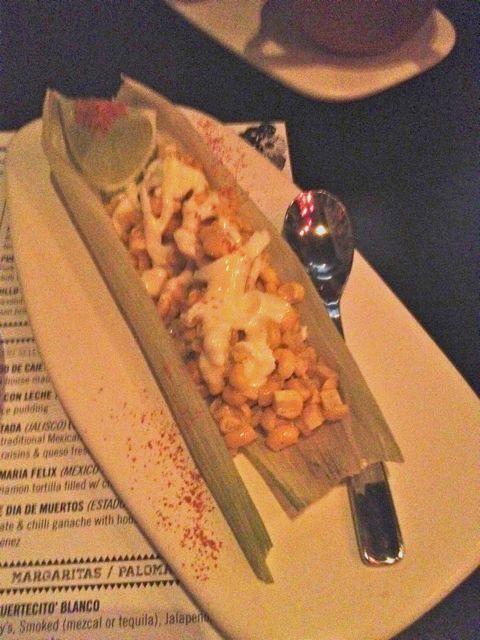 The highly anticipated 'Panuchos de Conchinita Pibil – Yucatan' Traditional slow roasted pork on corn tortilla with refried black beans, pickled red onions and habanero salsa. WOW a tiny bite of amazingness!! I should have gotten four just for me!!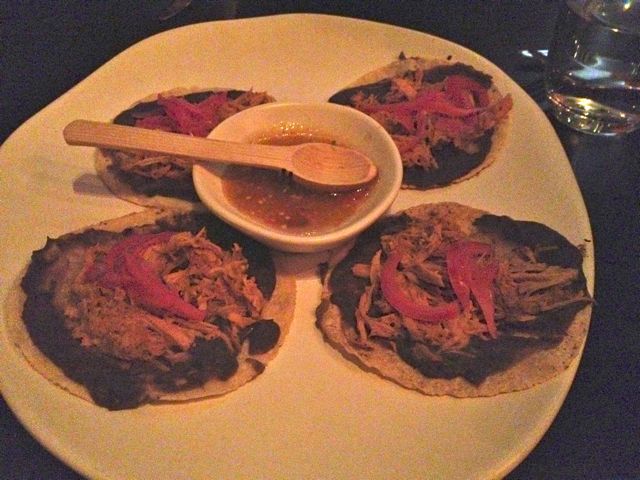 And then we have Cactus! It is really good!! Tostada de Cactus – little tortilla cups with cactus, green tomato, frijoles, queso fresco and guacamole. Reallly yum!!
The 'Pulpa y atun a Los Tres Chiles – Baja California' The Baby octopus and Tuna dusted in guajillo, pasilla and ancho chillies with coriander and watercress!! Amazing dish with cubes of tuna and plenty of tenticles!!
The finale for mains – Pork Ribs twice cooked in Negro Modello (Mexican Beer!) and finished with a chilli dust. Served with pickled vegetables the ribs are soft and succulent and falling off the bone and the vegetables are tart and really good!!
The staff are lovely, with reservations only at 6 and 6.30pm the restaurant is filled to the brim by 6.35pm and the staff do a great job of making sure everyone has everything they need, water is poured from giant decorated jugs and teapots and the staff are really nice and helpful with the food.
Now dessert time! You can sample 3 of the desserts for just $18 so why wouldn't you!! We can easily tell that the desserts are a win when everyone stops being so polite and gets those spoons in!!
The 'Capirotada – Jalisco' is described as a Colonial traditional Mexican bread pudding with sugar cane, peanuts, raisins and queso fresco and it is gorgeous!! I love it and would love to be curled up with a big bowl right now (maybe a little custard!!) and then we have;
'Flautas Maria Felix – Mexico D.F.' A Rolled Cinnamon tortilla filled with cream cheese & plum pisco – totally divine! The cream cheese has a slight sourness to it and it is soooo good! Not the overly sweet version that you would expect with its Italian cousin the canoli!
And then we have the 'Chocolate dia de Meurtas' Is a stunning Dark chocolate and chilli ganache with house made guava jelly and Pedro Ximenez. OMG it is soooooooo good and the dark chocolate and chilli is possibly a new addiction!!
Sorry there weren't more pictures!! But we will just have to go back another time!!