A gorgeous sunny Autumn day and perfect for a long walk and a spot of lunch! Komeyui has been on my list for a while and finally we make it! Once a Greek, then French – it seems Japanese is the right cuisine for this spot and there is a decent number of tables already seated 20 minutes after opening.
The Komeyui website speaks about the food philosophy of Japan and how this has translated into the food served at this wonderful restaurant.
"Kome – Rice, the mainstay of the Japanese diet.
Yui – Knot, a word that is full of emotions, harmony and health, whether it is binding, make, become attached to, and unity.
The Komeyui Symbol – Symbolises a traditional Japanese group meal where family and friends gather together and sit around the table on which there is a large hotpot and a tray of rice dishes including gohan (steam rice), and side dishes such as natto (fermented cooked soya beans), temaki (hand-rolled sushi), yakizakana (grilled fish) and miso soup."
The all wood sushi bar has a very calming effect and the smiling waitress makes us feel really welcome. We quickly have a lovely glass of iced Choya plum wine and menus to peruse.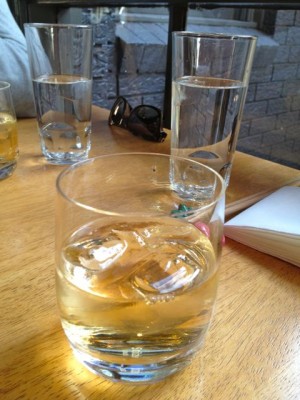 I have been craving a nice platter of sushi and sashimi and there is a great one on the lunch menu With 9 pieces of sashimi, 5 pieces of nigiri sushi and 6 pieces of maki sushi we are in for a fish-feast!!! But first the egg custard!!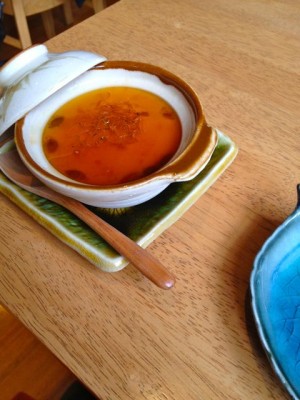 An unexpected delight! The egg custard is luscious and siky and with surprise scallop and mushrooms in the base and pepitas studded in the top is a little dish of wonderousness!!
Now – the fishy-fest! AMAZING! So incredibly fresh, spicy wasabi works wonderful with the tuna, smoked pike, king fish, salmon and much more – it is stunning!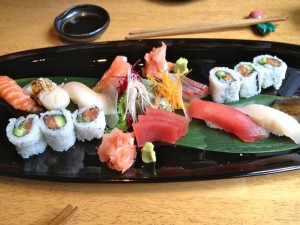 So incredible!
The Wagyu Salad is equally impressive with flash boiled, thinly sliced, tender wagyu beef and vegetables, spinach leaves, delicately sliced cucumber, cress all gently covered with a creamy white sesame dressing.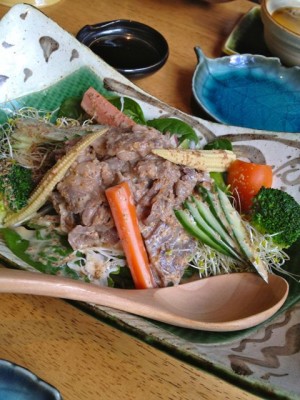 The Gyoza or 'Japanese ravioli' with soy vinegar dipping sauce, rice, miso soup, small side dishes and pickles is a generous serve of really wonderful crispy dumplings with a gentle flavoured filling.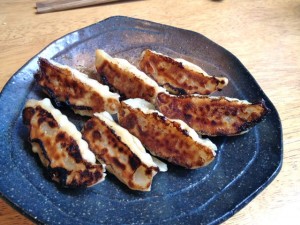 This is a great place, we need a very long walk home with such full bellies and we didn't have room for the sake brulee but it gives me an excuse to come back for some of the best sushi I have ever had!
See you soon!!