A local curry house is an important part of a good Friday night! BYO makes it even better! Bedi's has been in South Melbourne for a loooooonnnnggggg time and there is barely a table free by 7.30 on a friday night.
The service is all good, the atmosphere is nice, bit of Bollywood on the tv and we have everything we need for a great night Indian style.
I have been craving a good curry for a while and some decent onion Bahjia – not disappointed here at all! And the Samosa are a crispy parcel of spicy vegetables YUMMMM!!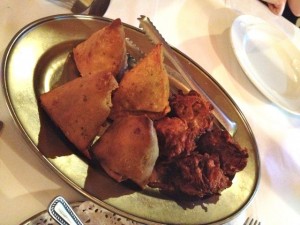 The 'Boti Kebab' is a nice dish of tender pieces of beef marinated in spices and cooked in the Tandoor, all good!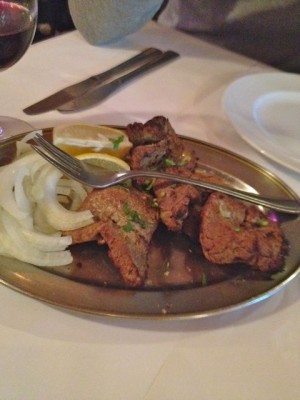 The selection of curries is great, all the old favourites feature and we fancy trying some old 'friends' tonight!!
The chicken Korma is a respectable bowl of boneless pieces of chicken cooked with cashews, almonds, yogurt and mild spices – textbook good!!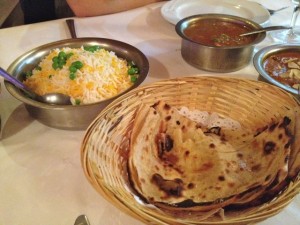 The 'Shahi Korma' is equally delightful and the garlic naan is rocking my world!!
The palak paneer was a little soupy and I am not sure if that is how it is supposed to be but it was still very tasty and I am loving my Mushroom Masala – delish!!!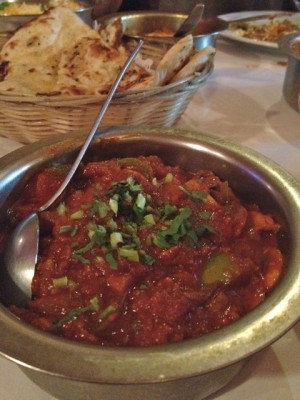 A good glass of red (or two!) and we have a thoroughly pleasant evening! I would have gone for some dessert but we were stuffed full with wonderful curry! Hurrah for a wonderful new local!!
Previously visited 26th October 2011
When it's a rainy night and you've got a few bottles of Riesling in the fridge you can get the joy of Bedi's Indian to come to you!
Delivering to most of Melbourne (at a small cost) you can order some of the best Indian and they will bring the party to you! It seemed to arrive with lightening speed, appearing through the darkness and rain, a box of goodies and a smell that starts the mouth watering as you crack open the packets and pots!
We went for the vegetable samosas to start, lightly spiced, crispy outside, yummy inside – it's quite hard to take a picture that really portrays this!! There are also Onion Bahjia, tandoori chicken, kebabs and lots more.
I had my first ever kashmiri naan and it was great, nothing like lots of lovely bread to scoop up the curry! The plain naan was also really good! The butter chicken was a generous serve of great chicken in a wonderful sauce and lots and lots of it – cue naan!!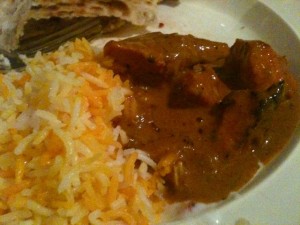 The palak paneer was a winner, hearty chucks of paneer, browned before being swamped in a nuclear green spinach sauce that packed a serious flavour, try not to get it on your white shirt and you'll be right!
The food was wonderful, we had plenty to go around and I definitely want to head down for a bit of on premise curry action and byo!