We Brits are always trying to hunt down the best curry in Melbourne and recently we teamed up with some other hunters to try out a strongly recommended Kake de Hatti! On a rainy, miserable night we take the tram across the East Brunswick to see how good it really is!!
The Lamb Kebabs are really good and super tasty with a good spice! The fish pakoras are really really good! Appetisers are a big tick and we are moving onto the real test! Curry Time!!
The oddly named 'Country Captain!' Described a the Royal dish of Northern India it is a rich curry with lamb, potato, capsicum and spices, teamed with a garlic naan and everyone is looking pretty happy!!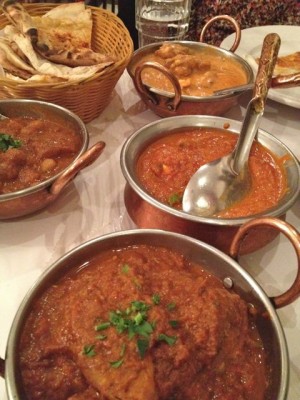 The Alu Cholle Chickpeas cooked with ginger, potato, garlic and spices in a country style are wonderful and the Chicken curry special is special! And very nice!!
All in all Kake de Hatti is good! Great curry and good prices, BYO is always a plus and even though they closed at 10.30pm when we were happy to stay longer, we all head off into the night with full tummies, chilli humming lips and smiles.