Quite possibly the best Hot Dogs in the world and a damn good coffee!!
The 'purveyors of the artisan sausage' are an institution and the queue outside is totally justified! We grab a 'cortado' and it is perfect!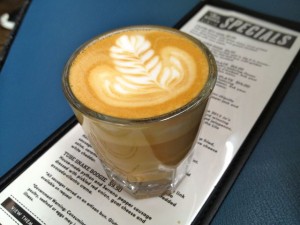 But it is the dogs we want and there are plenty to choose from! The menu is fab and my mouth is watering just thinking of them!!
The Jalapeno Cheese Dog is soooooooooooo good!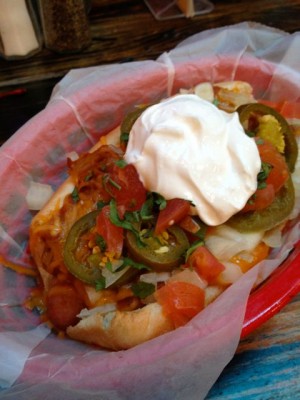 Jalapeno and cheddar cheese-stuffed 100% Vienna beef topped with cheese and jalapenos – WOWOWOWOWOWO!!! And I master how to pick up a loaded dog too!!
I am also enjoying a Ginger Cherry Limeade whilst my friends takes on the Bacon Bloody Mary!!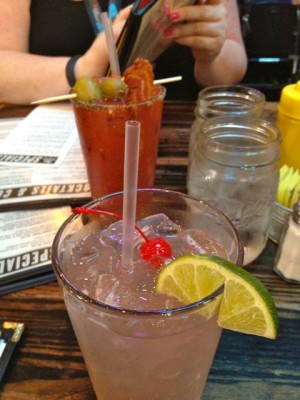 Whilst mine is refreshing and all those cherry flavours I love the Bloody Mary is dark and spicy!! Couldn't be any different… nevermind the slice of bacon dangling in the glass!!
My friends Slaw Dog is really good! 100% Vienna beef with horseradish cole slaw – I love the spicy warmth of the horseradish with the sausage – YYYUUMMMMMMM!!!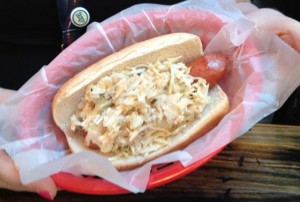 Everything is so cool here at Frank's, the staff are so cute, the food is amazing and even the water glasses are rocking!!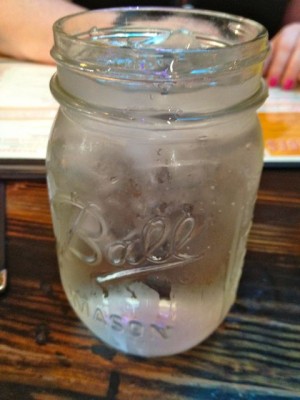 We get greedy on the sides but it has to be done! Corn Dogs, Waffle Fries and the Corn Cup,
Cute little crispy corn dogs, amazing waffle fries – crunchy and tasty and grilled corn served off the cob with chili mayonesa, lime juice, cilantro and cotija cheese – AMAZING!!!
We have eaten too much already but the dessert menu is monumental!!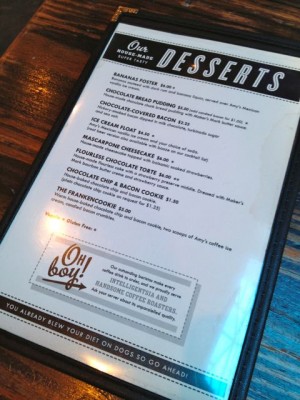 How can I not have 'The Frankencookie'?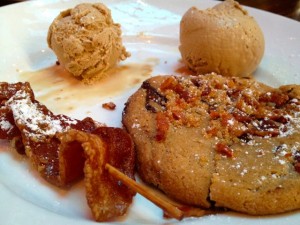 Warm house made chocolate chip, pecan, walnut, cranberry and bacon cookie, scoop of Amy's coffee ice cream, candied bacon crumbles (plain chocolate chip cookie on request)!!!
Seriously!!?? I didn't think I could do it but it is AMAZING!! The chocolate chip cookie is the BEST choccie chip cookie ever! The bacon crumbles totally work and the coffee ice cream – GENIUS!!
I left a little of my heart with Frank that day – I hope I get to go back and get it one day!!