The beer garden is buzzing on a warm Saturday night and I am happy to have happened upon The Peacock Inn in Northcote. The menu is great, pub favourites and global fare there is a great selection of pasta plus anything from nachos to souvlaki!
We make an excellent decision and get some bread and dips to enjoy first….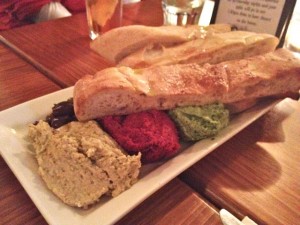 Have you ever seen such a good spread!!?? Amazing trio with warm Turkish bread and beautiful warmed olives. The beetroot dip is fruity and lovely, the hummus is perfect and the green dip like a creamy, minty pesto – delish!! Probably shouldn't have enjoyed too much as the mains arrive!!
The steak sandwich is a substantial serve with a great fresh salad, good handful of chips and a pretty amazing steak sandwich!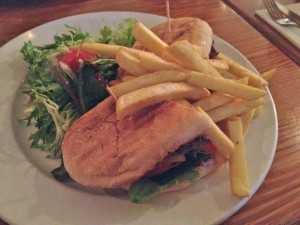 Several pieces of perfectly charred medium rare minute steaks teamed up with cheese, bacon, fried egg, salad and a spicy chutney – really really good!!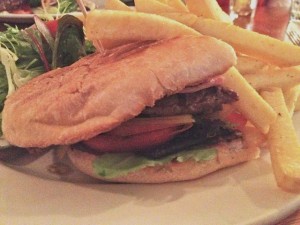 The lamb souvlaki is exceptional! An incredible amount of beautiful lamb that has been cooked to perfection so that it is pink, moist and almost melt in the mouth!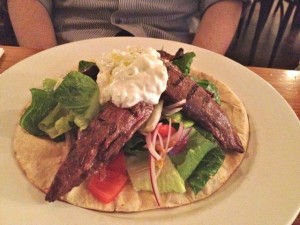 Pretty soon they are being sliced up and wrapped up into mini kebabs – fantastic!!
This is no ordinary pub, this is really, really good food at a great local – you lucky Northcotians!!!