Great space, even better great outdoor space and close to the shops at DFO!! A fun time to be had by all!!
We have been to this spot a couple of times and we also got to meet Gabe the manager on a recent tour of the new spots at South Wharf. It is a welcome addition to the great pubs of Melbourne but even more so as a spot you can enjoy the sunshine and a beer!
So once I had gotten over my immense disappointment that there was no Special BBQ hot roll, slow braised Spanish goat …. hmmmmm I love goat and a slow cooked goat roll would have to be pretty special but not today! 🙁
But it's ok as there is a full menu packed full of different dishes to suit all styles and appetites!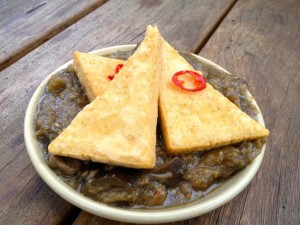 Poor tofu gets a bad deal but I love it and when it is cooked like this I snigger at all those missing out!! Salt and Pepper Organic Tofu with braised eggplant – WOW! Perfect crisp edge and super silky inside and wonderful tofu dish with a hearty serve of braised eggplant – perfect!
The Meatballs with tomato and kalamata olive sauce – good hefty meatballs, delicate and flavoursome olives with plenty of herbs and parmesan – damn fine dish!!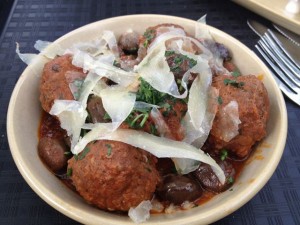 And the Cauliflower and chickpea fritters – fantastic! Spicy, crunchy with whole chickpeas and a yummy aioli to finish off – delish!!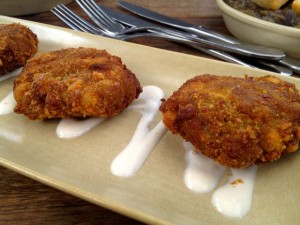 All in all a great place to grab some food, a few drinks and enjoy the sunshine by the river and when it comes colder time I heard rumours of a Winter wonderland transformation to keep us all snug!