We had this crazy idea – one night at SXSW in Austin we would do a Food Truck Challenge! Lets hit every food truck in Downtown Austin and have a taste from each one….. foolish! There were about 60 trucks that we managed to find and we stopped looking pretty quick!
Food trucks are serious business in America and in NYC there are about 4,000! Austin has it's fair share too and many have re-located to pick up the business from feeding the SXSW visitors invading the city! Combine with most of the food being pretty carb heavy and we were onto a losing battle before we stepped to the first truck!!
Truck 1 – Square space sponsored food truck – free food for all!!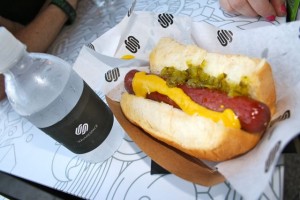 Old School beef frank with mustard and relish! Sooooo gooood! In order to pace ourselves we share the beef frank and the Pepperwurst sausage – both are quite divine and for free!
Truck 2 – The Sugar Shack BBQ – apparently the original BBQ food truck and serving….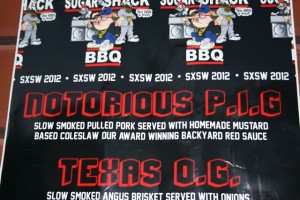 The notorious P.I.G!! O.M.G this is goooood!! SLow cooked pulled pork and all the trimmings…. how good was it??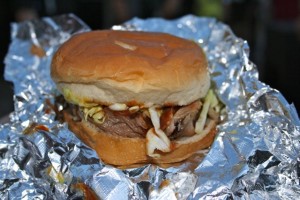 This is serious stuff! If we were staying here for longer I might have to set up camp outside this one … but wait there's more!
Truck 3 – Hmmmpanadas! Little pasties of loveliness with traditional beef, veggie and green chilli chicken! So cute and with a little pot of chipotle mayo – heaven!!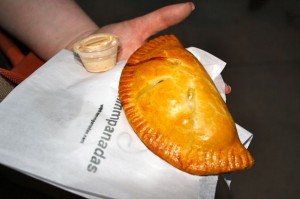 Soooo yum!!
Truck 4 – We move onto dessert with Vino Vino Brulee Brulee
Imagine a creme brulee fired up on the side of the street!! Our chief burner has been going to SXSW for every one of the thirty years it has been going and now brings down his brulee truck to feed his fellow music fans!
Vanilla or Chocolate, bruleed to perfection and left to cool for just a minute to ensure that the top is super crispy and underneath….. absolute heaven!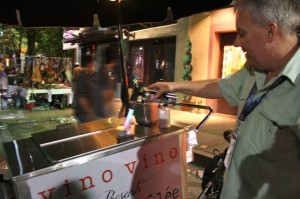 Truck 5 – Hello Cupcake!
A van of cupcakes??!!! Oh Yes!!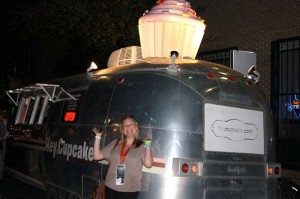 Gorgeous converted silver wagon and the cupcakes are just as special! You can choose from….
The John Lemon;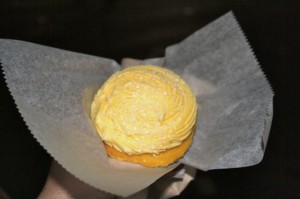 Seriously I cannot describe how amazing this was, the softest, lightest most stunning icing on top of a cloud like sponge of lemon loveliness! We had to go back the next day to try the Red Velvet and the Original!!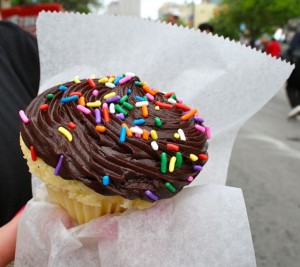 Soooo good, I never did try the Michael Jackson… I wonder what that one was like!!
Truck 6 – Pizza time with Stoney's pizza slices! A real American slice bigger than the plate you get it on!!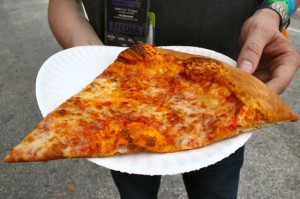 Did exactly what is says on the box! Thin, crispy, cheesy, tomato heaven and a great snack on the run… I would love to see the size of the oven they cooked it in!!
There were many many more trucks offering corn dogs, hot dogs, slices, burgers and the infamous chicken crispy cream sandwich……. two crispy cream donuts make up the bun on a deep fried chicken fillet…. not a chance!!
Melbourne Food Trucks have got a bit of catching up to do!!