The sun is shining on our visit to Mister Bianco today, now open for lunch Weds, Thurs and Friday we don't need any other excuse to visit again!
With a big group of us celebrating the 'shared table menu' is the perfect option as you are invited to 'experience 'tesori della cucina', the treasures of the kitchen'.
A beautiful Prosecco is soon on the table and we are trying to decide which of the amazing courses we should opt for on the shared menu.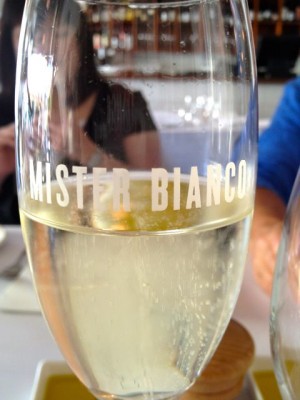 We go for the two course option and select the 'Stuzzichini course' and the Pasta course featuring enticing dishes with smoked mozzarella, sage burnt butter and crustcean broth…. hmmmmmmm!!
There are warmed, floury rolls, olives and olive oil on the table to nibble on – delish!!
The first dish is the 'sher wagyu meatballs 'messinese', cous cous + tomato sugo' WOWOWOWOWOW Absolutely stunning!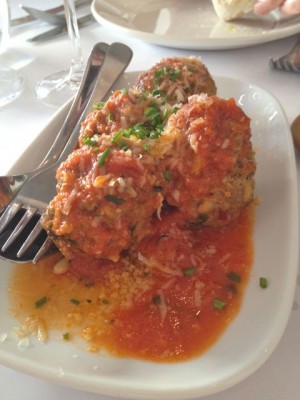 Succulent, rich and spiked with pinenuts this is the most perfect meatball ever!!!
But then the 'Arancini with saðron, pea and smoked mozzarella' arrive and we have a bit of competition for the best ball shaped dish!!!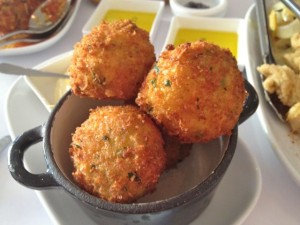 Look pretty good hey? How about now?!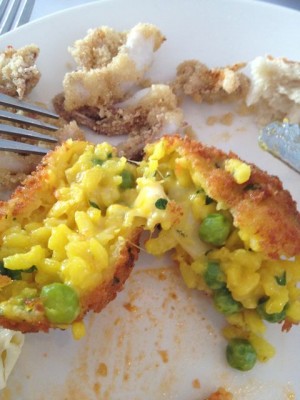 Gorgeous!! The smoked mozzarella is really tasty!!
The 'Semolina + spice dusted fried calamari, witlof + truss tomato' is fantastic, no greasy, rubbery calamari here! This is calamari treated with respect! Lightly dusted in delicate flavours and cooked perfectly. The salad is a great balance with the flavours and I do steal a little of the arancini aioli too!! SOOOO good!!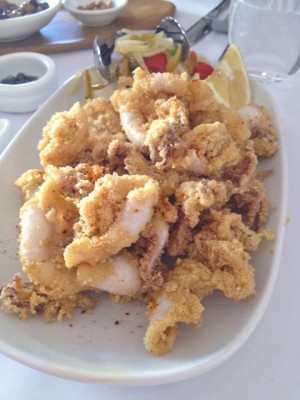 We move on from the Stuzzichini course to the pasta, I love pasta! And I love Mister Bianco's pasta especially!
The 'Spinach ricotta gnocchi, sage burnt butter, shaved parmesan + swiss brown mushrooms' is STUNNING!! Vibrant green spinach with earthy mushrooms and beautiful sage butter – perfection!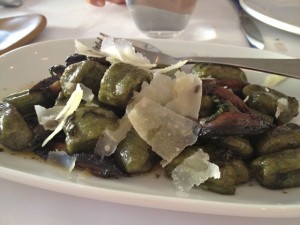 My mouth is watering!! Mister Bianco always present dishes with both amazing flavours but also incredible colours – eating with your eyes is a feast here!!
Speaking of colour! The 'Risotto of crushed baby peas + mint, grilled morton bay bugs, crustcean broth + tomato dust' Holy bugs batman!! This is summer on a plate! The perfect marriage of fresh pea and mint and the delicate bugs …….. you rock my world Mr B!!!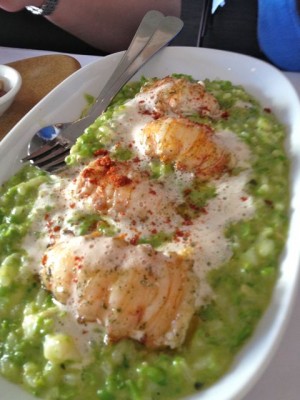 We are soooooo spoilt today!! But we also get a serve of the rich ragu pasta, slow cooked ragu and fresh homemade pasta – ashamed to say I don't know what you call this pasta – anyone? I shall call it perfect hand rolled tubes!!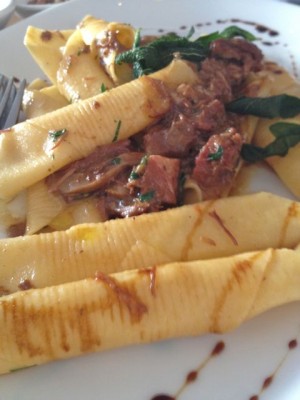 BUT the image that made this post look so gorgeous…. cue yummy noises!! The Pork belly with beetroot crisps and an orange marmalade…….. there are no words to express how utterly amazing this is!! The tangy orange with the rich pork – WOWOWOWOWOW love, love, love!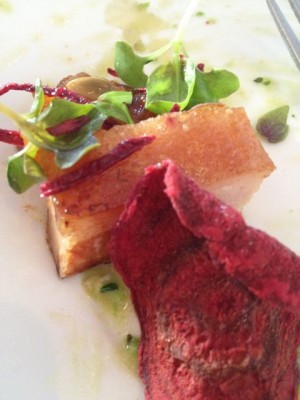 Thanks Mr B we will see you again very soon xxxx
……………………………………………………………………
Published October 2011
Friday lunch time on a rainy day in Kew but we are full of sunshine as we visit Mezzo's new little brother Mister Bianco, its a gorgeous looking little space with plenty of happy people tucking into fabulous food.
The sharing option is always a favourite and when lovely Joseph, the owner, suggests that we go with a degustation of sharing dishes we are only too happy to agree! With a lovely Swings and Roundabouts sparkling in our glasses we enjoy small plates of succulent sher wagyu meatballs 'messinese' with cous cous and an amazing tomato sugo along with arancini with spinach, provolone cheese and chilli.
Gorgeous soft ciabatta rolls and olive oil and the restaurant is filled with the happy rumbles of everyone enjoying a leisurely lunch grazing through the fantastic menu.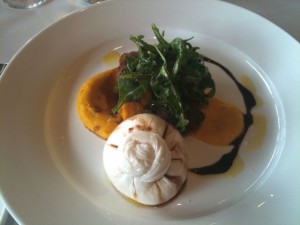 Burrata cheese with a roasted butternut pumpkin salad, black rice fritters, candied walnuts + wild rocket is divine! Like a mozzarella but more creamy and loose, as per our friends at Wikipedia – When making Burrata, the still-hot cheese is formed into a pouch, which is then filled with scraps of leftover mozzarella and topped off with fresh cream before closing. The finished Burrata is traditionally tied to form a little brioche-like topknot, and moistened with a little whey.
It is gorgeous, smooth, creamy and with the black rice fritters that I adore!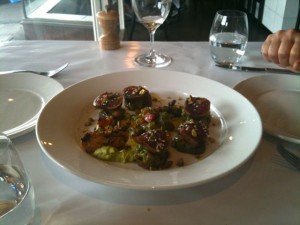 The tuna carpaccio 'alla zingara' with a avocado and cucumber salad is great, super fresh, gently seared tuna proudly sitting on top of a creamy avocado tower, it's light and delicate flavours are not so delicately inhaled as we all make yummy noises!!!
Chris the restaurant manager is just gorgeous, we are feeling very well looked after as we enjoy an Italian Prosecco and a very nice Moorooduc Chardonnay from Mornington, I am so glad good chardies are back on the radar!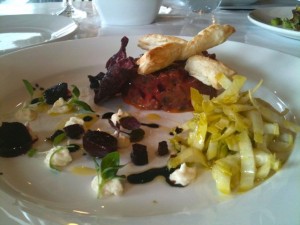 The organic beef tartare with glazed baby beetroot, creamed horseradish crostini and endive is stunning, there is a moment where we are all munching away and realise that the flavours are not only fabulous but do remind us of a certain fast food big hero – this is in no way meant to be disrespectful to the chef but the beautiful combined flavours of the beef, onion, tomato, light vinegar come together to make a beautiful dish.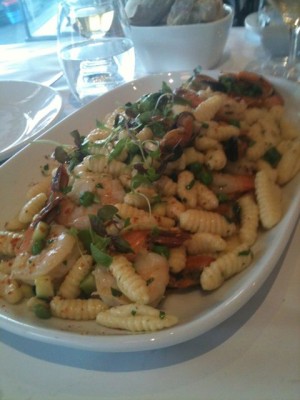 The cavatelli (semolina gnocchi) with prawns, mussels, zucchini, lemon and basil is a stunning fresh dish, the semolina gnocchi is lighter than the potato version and the fabulous seafood makes a genius dish demonstrating the simplicity of great Italian food! Great ingredients, great combinations and keep it clean and simple!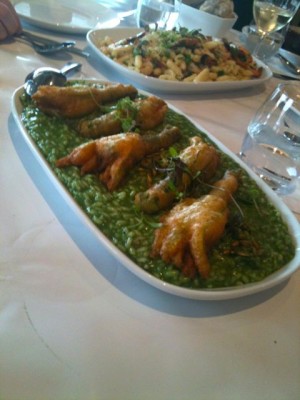 My absolute favourite of the day is the risotto of stinging nettles with prosecco, fried zucchini flower and pumpkin oil, it looks pretty striking, nuclear green with great big fluffy battered zucchini flowers and dotted with pine nuts. It tastes awesome! Full of flavour with the delicate flavours from the flowers stuffed with cheese. It is a winner!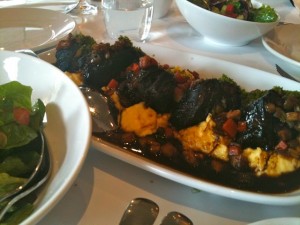 After a little rest the close second favourite arrives, 'brasato al nero d'avola' – braised beef cheeks in red wine, polenta and gremolata. Slow cooked beef cheeks that just flake on the plate with smooth, creamy polenta and rich red wine sauce it is stunning, pure comfort food on a rainy day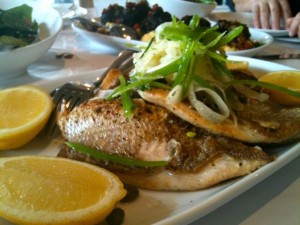 The finale of pan fried snapper fillets are stunning, the quality of the fish is fantastic and cooked perfectly to maintain the natural flavour and deliver a light flaking fish with soft, gentle flavours.
It is a fantastic array of food and we are all feeling very full and very special, every other dish on the menu sounds so good I know we will be going back very soon! Especially when we haven't even touched on the desserts!
Thanks again to Chris and everyone in the kitchen for treating us to such a wonderful lunch!